Is Second Hand Pallet Racking Worth Buying?
Second hand pallet racking – Should you do it?
Second hand pallet racking – Should you do it?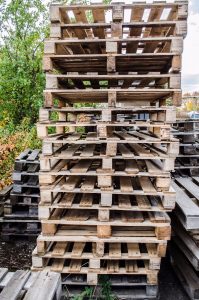 Many pre-used items come at a very persuading price. Second-hand bicycle? Bargain. Second-hand chest of draws? Bargain. Second-hand pallet racking? NO.
Safety is paramount when it comes to purchasing pallet racking and that is exactly the one thing that can not be guaranteed from a second-hand seller. You never know what's being covered with a lick of paint or being hidden from the sale.
Avoid costly mistakes when purchasing pallet racking and if you're going to do it, invest some money into getting an expert to check it out with you. Or alternatively, check out the reasons why we think you should be avoiding this:
1. Deflected Beams, Broken Planks
Naturally, over time your beams and planks will slightly deflect due to the continuous movement of stock being imported and exported. Although this is to be expected, it can become highly dangerous once it reaches a certain limit.
When buying second hand, this is something to be aware of. Although the seller may be selling racking that has a deflect within the SEMA standards, it will not take long after purchase for it to become hazardous – particularly without having the knowledge of what was actually stored on there previously.
Buying new will not only take away the worry of or when the beams will go, but also save money in the long run.
2. Poor welding
Another thing to keep a strong eye out for is poorly welded together beams. If this has been done, there is a strong risk of the whole structure collapsing which is not only going to put you out of pocket, but will leave you without racking causing disruption throughout the business.
3. Bent diagonals
Bent diagonals can be a red light sign of a mis-used racking system or a genuinely faulty structure. This, of course, means your bargain pallet racking is not going to live a long life. Avoid falling into this trap by buying new. Not only are you going to have a brand new, stronger structure, but you can relax knowing that you not only have genuine pallet racking, but a warranty that covers it too.
4. Rusted components
Buying second-hand pallet racking is buying from the unknown and/or hidden. Although most purchasers will know to look for the obvious signs of rust and corrosion, you can't always tell what's hidden under a lick of paint.
It is important that your pallet racking is not weakened by rust as the frames will not be able to hold even the allocated weight allowance.
There is no way of telling where the pallet racking has been kept or how it has been treated. Make sure you're thinking smart about cover ups if you're buying second hand.
5. Money Bin
 The majority of the time, second-hand items will not come with a warranty which means if something goes wrong, it's coming out of your pocket.
You need to think hard about if it's worth spending more money on fixes than it's worth. It doesn't take long to get stuck in the trap of constantly paying out for repairs, so why not make a secure investment in some new warehouse racking? Not only will you be saving money in the long run, but also time and efficiency.
6. Replacement Parts
When buying second-hand pallet racking, it is more difficult to figure out what has been replaced, fixed, painted over or even if those replacement parts are genuine.
If the brand is well known, there is more of a chance that the replacement parts are genuine. However, this does not mean it is for definite. You wouldn't buy a Ford car with a Vauxhall engine, so don't make the same mistake with your pallet racking.
7. Get a professional inspector
If second-hand pallet racking is still the route you want to take, make an investment in precautions. Understand that you don't know how often the pallet racking has been checked, toyed with or endured DIY jobs.
By taking a professional inspector with you to check it out, you can be secure that all the obvious signs of faultiness have been checked over.
SEMA Approved Racking Inspectors
General maintenance on racking systems is healthy, however if it becomes a regular occurrence it can quickly become dangerous. Regular inspections are a legal requirement under UK law to be taken annually. BSE UK are SEMA approved which means all of our equipment is tested and in date before being sold.
We understand that without a durable and safe product in use, both safety measures and quality is compromised.
Need Some Expert Help?

Whether you're looking for some new pallet racking for yourselves or looking for advice, make sure you are going to the correct places.
With over 50 years of experience with pallet racking, we are here to help you in any way we can. If you need helping finding what's best for your warehouse or want to find some racking that you can rely on, give us a call on 0117 955 5211 to speak to a member of our team.
Bristol Storage Equipment Limited
Unit 28 Brunel Way,
Cooper Road,
Thornbury,
BS35 3UP
Sign up to receive our newsletter
By submitting this form you agree to our privacy and data protection policy which governs how we deal with personal data.