Warehouse Safety Advice - BSE UK
Warehouse Safety Advice
Our Top Tips to Warehouse Safety
We often post on our Facebook page warehouse fail videos that continue to amuse us (once we know that the individual concerned is safe and well, of course).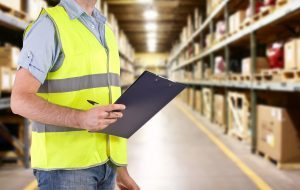 However, whilst providing mild entertainment, the accidents, which often come close to major injuries, should really be preventable.
With some simple safety tips in place, along with the correct safety equipment, your warehouse can be a much safer environment for you and your employees. If you haven't already, ensure that you implement the proper regulations, or risk being featured in our Friday Fail on our Facebook page! 😉
Successful Health and Safety Management

Did you know that around a quarter of all major injuries – from broken bones to hospitalisation – in the warehousing industry are caused by workers slipping or tripping? In addition, poor manual handling can result in individuals being hit by moving or falling objects.
To avoid these situations there are a number of legally required conditions that you must abide by to ensure successful health and safety management. These will include risk assessment, proper training, and regular inspections. But how can you be sure to achieve the best results? Take a look at the regulations and tips below and remember that you might want to involve the workforce, as well as health and safety representatives, in decision making:
Identification

Identifying the key health and safety priorities within a business or workplace is fundamental.
Undertake a risk assessment to recognise hazards, who could potentially be harmed and how, evaluate risks, and decide on the precaution methods. Ensure that you concentrate your efforts on these priorities and eliminate risks where possible – and where you can't, reduce the risk to an acceptable level.
Adequate Training

Upon identifying the risks to employees and anyone else who might venture into your warehouse, ensure that staff are given basic training in Health and Safety. Training should be specific to the hazards associated with their work and the environment in which they work.
At a minimum, employees should understand and thus follow the various signage placed within the building. This will include their awareness of emergency exits and standard protocols as well as the regulations surrounding requirements for protective clothing.
Using Safe Systems

The law requires that equipment such as fork lift trucks, conveyor belts, racking, and ladders for example are suitable for the intended use. They should be maintained in a safe condition and inspected for deterioration on a regular basis. Finally, such equipment should only ever be used by the people who have received adequate information, instruction, and training.
Lifting equipment and fork lifts are further discussed under The Lifting Operations and Lifting Equipment Regulations 1998 (LOLER). These regulations state that lifting equipment provided for use at work is:
Strong and stable for the particular use and always marked to indicate safe working loads.
Positioned and installed to minimise any risks.
Appropriately and safely used.
Subject to on-going and thorough examination.
Appropriate Signage & Instruction

Eliminate potential safety hazards by ensuring that they are well signed and required actions are clearly instructed. The use of simple signage, such as hazard warning tape, load notices, and floor signals can make the world of difference.
In fact, the Occupational Safety and Health Administration (OSHA) requires by law that you have proper signage in your place of business to protect employees and customers. Not only will their use protect your business and its employees, but your inventory too. A lack of safety warnings will put you and your employees at considerable risk.
In addition, signage can provide simple reminders for your employees about warehouse safety; the likes of hard hats and protective glasses for example.
Regular Inspection
To ensure on-going success for your Health and Safety efforts it is important that regular inspections are carried out.
Not only will inspection of your warehouse, pallet racking, and shelving ensure that it is always up to scratch and the safety of your stock and personnel is maintained, but regular inspection can help reduce both insurance premiums and maintenance costs.
Let Us Help

Whilst the above information is by no means exhaustive, it is certainly a great place to start.
At BSE UK we offer an inspection, repair, and replacement service for your pallet racking to ensure that you don't miss any hidden dangers. In addition you can find a host of safety equipment available in our store to ensure that you comply with the appropriate regulations. Just give us a call on 01179 555 211
Bristol Storage Equipment Limited
Unit 28 Brunel Way,
Cooper Road,
Thornbury, Bristol
BS35 3UP
Sign up to receive our newsletter
By submitting this form you agree to our privacy and data protection policy which governs how we deal with personal data.