Semi Automation



We design, supply, install and maintain a range of semi automated products to make your warehouse more efficient and reduce costs.
Request a callback today
If you're looking to maximise the space available in your warehouse, we can help. Click the button to request a callback or contact one of the team today on 0117 955 5211.
Semi Automated Storage Systems - Design, Supply, Installation
At BSE UK, we can design, install and provide ongoing maintenance for semi automated warehouse storage systems designed to increase efficiency, reduce costs and achieve greater control over physical assets. Making the move to any kind of automation can seem daunting, which is why we work with you to understand your operation and recommend the best system for you.
Using the First In, Last Out (FILO) principle, pallet shuttle systems allows for high density storage whilst reducing the risk of damage to racks.
Carousels

 & Storage Machines
Computer operated storage machines can improve picking efficiency by as much as 70% whilst also saving floor space.
''I contacted BSE UK, as I wanted to maximise the little space I had left in the warehouse. George came to site and told me what options I had, he was very knowledgeable and provided me with brilliant information on what benefits the various different products would give me."

TESTIMONIAL FROM PHARMACEUTICAL MANUFACTURER
Who are BSE UK?
We are a family owned and managed business with over 50 years experience in the industry.
Watch our video to find out more!
Benefits of Semi Automated Warehouse Systems
A semi automated storage system can offer a number of benefits to warehouse operations including:
Intergration with existing Warehouse Management Systems
Can save up to 70% of existing floor space
Proven to improve efficiency when picking by up to 70%, with the rate of picking errors also significantly reduced
Forklifts do not need to enter aisles within pallet shuttle systems, significantly reducing the risk of damage to racking and forklifts
Pallet shuttle systems can be used at all temperatures, making them ideal in any operation including cold storage
High density storage improves warehouse space usage
Full Automation vs. Semi Automation?
The rise of robotics and automation in the warehouse has made full automation vs. semi automation a hotly debated topic, with both options offering different benefits.
Whilst full automation allows for reduced staff requirements, improved efficiency and a reduction in human error, it requires huge initial investment which is not feasible for most warehouse operations.
In contrast, semi automation still requires operatives, but demands a signficiantly lower price tag and can help improve staff efficiency and maximise space in the warehouse - offering a faster ROI.
For many warehouses, full automation is something for the distant future and thus they will favour the manual methods that have always worked for them, with some using semi-automated systems to enhance the efficiency of their workforce.
Watch our semi automation videos
One Supplier from Start to Finish
"Unlike other online shops and providers of semi automated systems, we can provide a complete end to end service, from initial site visit and design through to repairs, inspections and maintenance of your system. Dealing with one supplier from start to finish allows for faster turnaround times, less administrative work and competitive prices. Click the button to contact me directly and discuss your requirements. "
George Ives - Managing Director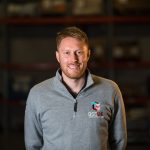 Frequently Asked Questions
Talk To The Experts
If you're looking to introduce a semi automated storage system into your warehouse, or want to know more about how it may benefit you, we can help. Give one of our expert team a call today on 0117 955 5211 or fill out a contact form and we'll get back to you.
View our semi automation gallery
Bristol Storage Equipment Limited
Unit 28 Brunel Way,
Cooper Road,
Thornbury, Bristol
BS35 3UP
Sign up to receive our newsletter
By submitting this form you agree to our privacy and data protection policy which governs how we deal with personal data.