Mesh Machine Guards & Cages
Easy, economic, protection can be configured exactly to your own application. From simple to complex designs, bespoke Machine Guard systems can be designed from existing site drawings - or simply request a site visit where we can take all the necessary details required to prepare a full quotation.
Axelent X-Guard Machine Guards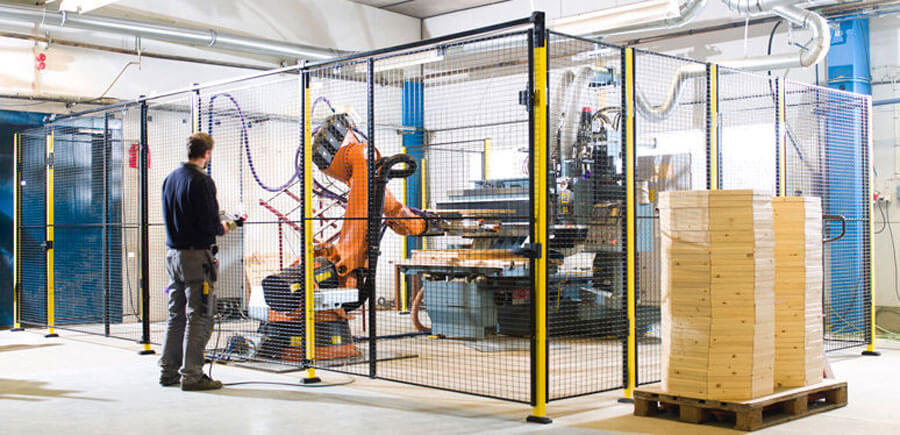 Features and Benefits
BSE UK Axelent mesh machine guards are designed to fulfil all the demands put on a functional guard.
Functional and Smart
In addition to safety, our machine guards have many smart solutions to facilitate the flows in and around the machines that require this type of protection.
X-Guard machine guards are available as mesh panel sections or sheet plate and plastic sections. Together with a large selection of doors, locks and accessories these offer a complete machine guard solution.
Cost effective
Smooth and easy handling, together with speedy delivery and assembly always gives you a good overall economy when choosing BSE UK's Axelent machine guards.
Be aware of the danger
Working around machinery with exposed moving parts carries the potential for severe accidents. Limbs that come into contact with or are drawn into moving machinery often end up crushed or severed. Unless contained, flying objects could strike someone in the vicinity.
Mesh machine guards are designed with a large range of applications within warehouse and manufacturing industry environments, giving a high level of security and protection.
Just a few examples of different industry sectors requiring machine guarding solutions:
Packaging, printing, food and drink, aerospace, timber, nuclear facilities, consumer white goods manufacturing, chemical industry.
Be safe
Keep your employees safe and your operation running smoothly. Install a physical barrier between moving machinery and human limbs. Choose machine perimeter guards – durable modular wire panels which enclose moving machinery, robotic cells or dangerous equipment. Always on duty and unaffected by power cuts, machine failure or electrical issues, machine guards are designed to maintain hygiene and worker safety.
The solution is simple
There is a simple, economic way to comply with the complicated regulations surrounding machine safety.
BSE UK supply Axelent X-Guard@ Machine Guards which are available in mesh panel sections, sheet plate or plastic sections. Together with a large selection of doors, locks and accessories, Axelent X-Guard@ Machine Guards offer a complete bespoke machine guard solution.
Axelent X-Guard@ is a completely new modular machine guarding system that complies with the latest Machine Directive "2006/42/EC" that came into force on 29 December 2009, placing new demands on permanent machine guards.
Designed for environments that require a high level of safety from dangerous machinery and moving parts. With a wide range of standard components and accessories, X-Guard is guaranteed to cover all possible machine guard needs.
Our machine guards are built around a standard design with regard to panels, posts, accessories and colour – making it easier for you to complement existing guards if required.
A machine guard that grows
Axelent X-Guard was launched in 2008 and since then, by listening to their customers, they have developed their range and added new dimensions, posts and accessories.
The Green approach - All products are powder coated and so are solvent free.
Important features
1. Free height adjustment – Option for +-10mm vertical adjustment of the panels. The height of the doors can also be adjusted to your requirement.
2. Foot cover – Gives a more refined finish to the post base and is easier to keep clean.
3. X-Key – A unique key designed to rapidly release a panel without the need for other tools.
4. Upper panel bracket with snap on function – An upper bracket means that the panels can be easily attached and removed from inside an enclosure. The bracket can be applied to a post on three different sides (at a fixed height).
5. Lower panel bracket – The lower bracket guides the panel into the correct position when assembling. Two guides mean the panel falls easily into place.
Mesh
BSE UK's Axelent mesh panels provide sufficient protection in most industrial environments and are available in a variety of widths and heights.
Sheet metal and plastic
Some environments, such as food or chemical manufacture, require a more comprehensive protection in the form of plastic or sheet metal covered walls.
X-Guard plastic and sheet metal system is easy to assemble and you can use the same posts and door packages as for our mesh products. In order to avoid gaps between the section and post we recommend that you use our custom edging plate.
Plastic walls are heat resistant up to 60 degrees and available with clear plastic, or green plastic as a protection against welding flare (meets fire safety standards UL94VO and also EN1598).
These sections are available in two heights and various widths.
The flexibility of the system helps you to combine plastic, sheet metal and mesh according to your needs.
Accessories
They are quick and easy to assemble
Comply with EU safety standards
Easy to expand and modify
Wide range of finishes to suit all applications
Designed to:
Partition off loading zones
Ensure operators' safety and the safe continuity of production flow
The customer can be sure of optimal safety with optimal production
Easy to use with time saving accessories
Offering high impact strength and optical clarity
PETG machine guards are approved for food contact
PVC machine guards for improved chemical resistance
Supplied with captive fixings for securing the panels to the post allowing easy removal for service areas.
Cost effective – Smooth and easy handling together with speedy delivery and assembly
Partitioning case studies
PF Cusack Case Study
PF Cusack contacted BSE UK to provide a competitive quotation to rack out their new build warehouse in Highbridge, Somerset...
Mezzanine Flooring, Partitioning and Warehouse Lighting Case Study
The objective was to create a functional warehouse with an office for staff and additional space for storage...
Bristol Storage Equipment Limited
Unit 28 Brunel Way,
Cooper Road,
Thornbury, Bristol
BS35 3UP
Sign up to receive our newsletter
By submitting this form you agree to our privacy and data protection policy which governs how we deal with personal data.