Garment Hanging System (GOH)

We design, supply and install garment hanging systems to provide a robust and adaptable solution for the e-commerce driven demands for quick fulfilment of clothes and garments.
Get your free personalised quote now
We can help determine what system is best for your operation based on your needs. Click the button or call one of the team today on tel 0117 955 5211 for more information.
We Design, Supply and Install Fashion Clothing & Garment Hanging Systems
The rise of e-commerce has led to demand for next day delivery and free returns. At BSE UK, we design, supply and fit garment hanging systems to improve efficiency and productivity for warehouse operations that primarily operate in the fashion and retail industries. Previous clients of ours have included large online fashion retailers and workwear providers. Our range of clothes hanging solutions for warehouses includes: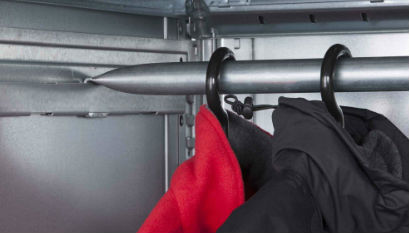 A garment within bay system is a basic options that utilises a pallet racking or shelving system to allow the hanging of garments.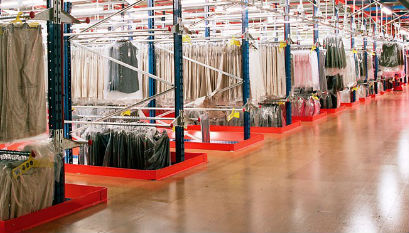 A GOH system uses a monorail system that can be moved and easily adapted to meet current demand and increase fulfilment speed.
"We have developed a great relationship with BSE UK here at Alfaholics, their dedication to exceeding our expectations is evident in all aspects of their service, they offer incomparable product knowledge and a quality service at an affordable price"

MANAGER - ALFAHOLICS
Who are BSE UK?
We are a family owned and managed business with over 50 years experience in the industry.
Watch our video to find out more!
Benefits Of a Garment Hanging System
Garment hanging systems offer a solution to the ever increasing demands of consumers, enabling warehouse mangers to improve efficiency and productivity, the key benefits include:
Enhances the 'cube', maximising the space available in your warehouse and negating the need for costly expansions or relocation
Improves organisation of stock, allowing access to any given garment at all times
Can be integrated within a mezzanine floor or multi tiered pallet racking system to utilise all available vertical space
Once installed, the system can be adapted to your changing needs
Contributes towards faster delivery and a more economical warehouse
A Flexible Solution to Ecommerce Fulfillment
As online ordering becomes the method of choice for purchasing clothing, warehouse operations must ensure they are able to keep up with the demands of the modern consumer, who have come to expect free and fast delivery and returns.
With aisles enabling warehouse operatives to walk between aisles, stock can be accessed quickly, picking times can be improved and quality control is easier. It is also possible to incorporate a goods lift or conveyor belt to multi tiered systems to make movement of bulk garments easier.
A garment hanging system can be built to suit both big and small warehouse operations, with a range of single and multi tiered systems available to ensure that all available space is utilised.
Read our recent racking case studies
Dexion P90 pallet racking with carton flow system
BSE UK recently undertook work for Lens Online a company that is part of…
Turnkey Options Available 
"If you're looking to have a new warehouses fitted out to handle garment fulfillment, our turnkey options may be of interest. As part of our project management service, we'll handle everything on your behalf, from design and supply to installation and ongoing maintenance; ensuring that your warehouse operation runs smoothly and efficiently. 
Click the button to email me directly and get a free quote"
George Ives - Managing Director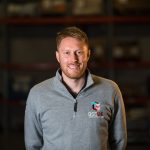 Frequently Asked Questions
Talk To The Experts
If your warehouse serves the fashion and retail industries, a garment hanging system could help improve your picking times and overall efficiency.
If you require more information, or want to book a free site survey, contact one of our friendly team today on 0117 955 5211, fill out a contact form or use the live chat to discuss your requirements.
View our garment hanging gallery
Bristol Storage Equipment Limited
Unit 28 Brunel Way,
Cooper Road,
Thornbury, Bristol
BS35 3UP
Sign up to receive our newsletter
By submitting this form you agree to our privacy and data protection policy which governs how we deal with personal data.