Dexion Drive-In Pallet Racking
Dexion Drive-in pallet racking is able to use available space up to 90% more efficiently than standard adjustable pallet racking
Use Space Up to 90% More Effectively Than Standard Adjustable Pallet Racking
Dexion Drive-in pallet racking is able to use available space up to 90% more efficiently than standard adjustable pallet racking. Dexion P90 Drive-in, also known as Dexion Deepstor, provides a pallet racking system that is ideal for batch storage of identical goods. Dexion Deepstor uses the FILO (First In, Last Out) principle making it perfect for efficient storage of high quantities of the same goods.
We recommend Dexion Deepstor for applications where access to individual pallets isn't crucial but where you require easier access than may be achievable through block stacking pallets. Whilst similar to block stacking, Dexion Deepstor Drive-in pallet racking really does increase to storage density of the warehouse.
Full access to all pallets
Combines maximum efficiency in storage capacity and density
Fully utilised warehouse space for efficient operation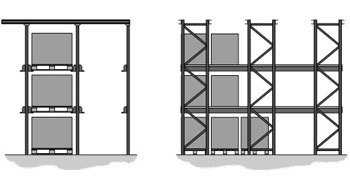 No Need for Loading Picking Aisles
Dexion Drive-in pallet racking is more efficient in terms of storage space than conventional pallet racking, thanks to there being no requirement for picking of loading aisles. The forklift truck will load the racks by driving into the system and placing pallets onto drive-in channels rather than beams. These front-to-back channels, or rails, make it possible to elevate loads and stack next to and on top of each other. The Dexion Deepstor system creates a safe and efficient form of block stacking pallets that are not able to be stacked on one another.
Drive-in Pallet Racking Rails
Dexion P90 Deepstor uses smooth steel pallet rails to ensure a snag-free surface for all pallets. The rails slot into the racking uprights and are fully adjustable as with standard pallet racking beams. All Dexion Deepstor rails also come fitted with bright pallet guides to aid drivers and pickers in locating loads safely and securely.
High Density Pallet Racking System
Maximise the cube
More pallets per cubic metre than any other racking
First in, Last out for Slow Stock Rotation – Ideal for seasonal loads
Store bulk items of the same type
Perfect racking for cold stores with temperature range of -35°C to +35°C
High quality Dexion racking
For more info on a Dexion Deepstor Drive-in Racking system from BSE UK or to get a free quotation contact us on 01179 555211 or [email protected]
Drive-In racking case studies

Dexion Drive In Racking Case Study
Logholme Ltd are specialist cheese makers based in Axebridge near Weston Super Mare…

Drive In Pallet Racking - South Wales
Castle Dairies is 'the home of Welsh Butter'. Established as a milk bottling dairy and Caerphilly cheese maker, a family run business thats been churning cream for 40 years.…
Bristol Storage Equipment Limited
Unit 28 Brunel Way,
Cooper Road,
Thornbury, Bristol
BS35 3UP
Sign up to receive our newsletter
By submitting this form you agree to our privacy and data protection policy which governs how we deal with personal data.