Do Mezzanine Floors Require Planning Permission? [FREE GUIDE]
Mezzanine Floor Building Regs | Does Your Mezzanine Require Planning Permission?
Mezzanine Floor Building Regs | No need for Planning Permission?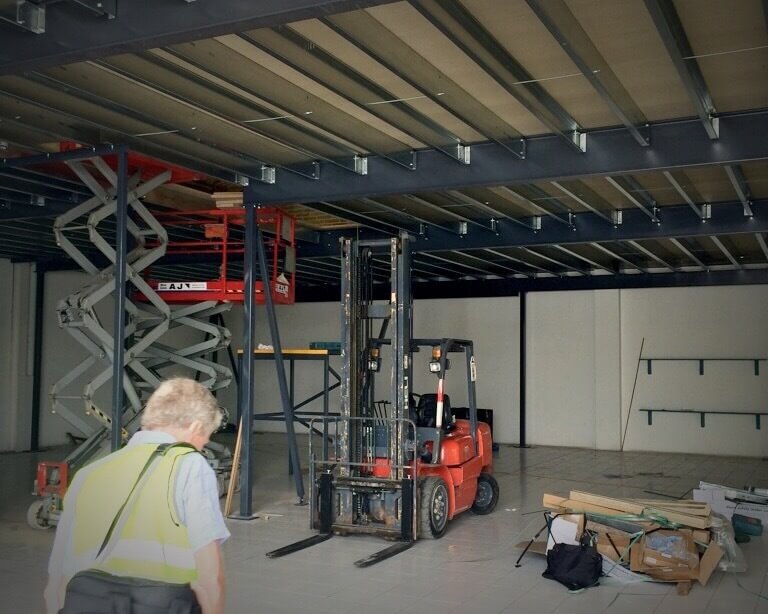 Do I Require Planning Permission for a Mezzanine Floor?
Typically no formal permission from a local authority is required for the erection of a mezzanine floor. However, there are some occasions when planning permission or Building Regulation Approval is required. Planning permission may be required if:
The mezzanine floor increases floor area of site when permission to develop site previously restricted
The Mezzanine is used for office space or work
External alterations are required to accommodate the floor
Flooring is for retail usage over 200m²
Can BSE UK help me obtain Planning Permission for a Mezzanine Floor?
To make certain we help our clients every step of the way we can take full responsibility to ensure you receive the correct planning permission for your mezzanine flooring project.
What are the 2010 Requirements for Mezzanine Building Regulations?
The Building Regulations 2010 revoked and replaced the Building Regulations 2000 and are made up of:
"Procedural regulations that set out what kind of work needs Building Regulations approval and how that approval should be obtained."
"Technical requirements that set the standards that should be achieved by the building work."
(Source: http://www.planningportal.gov.uk/buildingregulations)
Building regulations are in place to promote the health and safety of stakeholders in and around a building by providing standards and requirements for the building design and construction.
'Raised Storage Areas' are specifically mentioned in the Building Regulations 2010 thus highlighting mezzanine flooring as potentially susceptible to Building Regulation Approval. Therefore it is important to establish whether or not a mezzanine floor may require approval as part of the design process.
Which parts of the Building Regulations apply to Mezzanine Floors?
The following aspects are applicable to Mezzanine Floor Regulations:
Part A – Structural Safety
Part B – Fire Safety
Part K – Protection from Falling
Part M – Access To and Use of Buildings
Do you cover off Structural Safety?
Part A is covered by the design and load calculations issued by the mezzanine floor supplier. As a trusted UK fitter and installer, BSE UK provides these structural calculations with all mezzanine floor projects, therefore compliance with Part A is a given if you work with our team.
What about Fire Safety?
Compliance with Fire Safety is summarised in Section 7 of the Building Regulations, therefore the need for fire protection can be established as follows:
Raised Storage Areas
7.7 Raised free-standing floors (sometimes supported by racking) are frequently erected in single storey industrial and storage buildings. Whether the structure is considered as a gallery or is of sufficient size that it is considered as a floor forming an additional storey, the normal provisions for fire resistance of elements of structure may be onerous if applied to the raised storage area.
7.8 A structure which does not have the appropriate fire resistance given in Appendix A, Table A1 is acceptable provided the following conditions are satisfied:
a. the structure has only one tier and used for storage purposes only;
b. the number of persons likely to be on the floor at any one time is low and does not include members of the public;
c. the floor is not more than 10m in either width or length and does not exceed one half of the floor area of the space in which it is situated;
d. the floor is open above and below to the room or space which it is situated; and
e. the means of escape from the floor meets the relevant provisions in Sections 3, 4 and 5.
BSE UK supply mezzanine floors with 1 hour fire protection ensuring you comply with the required standards.
What is Part K & Part M Compliance?
In order to comply with Part K and Part M of the regulations access and protection must be considered at the design stage. All BSE UK supplied mezzanine floors are designed to be fully compliant with these regulations and use approved staircases, handrails and kick plates. For more information on The Building Regulations 2010, please check out these useful links:
Do I have to Apply for Building Regulation Approval for a Mezzanine Floor Structure?
Yes you can apply for Building Regulations Approval directly with your local council authority or there is an easier way: Get in touch with an approved and independent inspector that can appraise and authorise the installation.
For more information on obtaining an improved inspector, check out The Construction Industry Council website An approved inspector will advise on how the Building Regulations apply to the project in order to provide a full understanding of what is necessary to comply.
They will also check through the design and the plans of the building and inspect the work as required. Following completion of the mezzanine installation, the inspector will issue a certificate of compliance to the local authority in order to confirm completion of the work to the required standard.
How to Keep Mezzanine Flooring Regulations Simple
At BSE UK we can provide you full Building Regulations Approval as part of the supply and installation of the mezzanine floor. This keeps things simple for you and ensures that your project isn't delayed by to-ing and fro-ing between individuals, inspectors and authorities.
We have access to a number of approved inspectors who we work closely with to provide the full Building Regulations Approval service.
Call us today on 01179 555211 or fill out the form below to request a callback and discuss your project and to decide if your mezzanine flooring needs to apply for Building Regulation Approval.
Request a Callback
Bristol Storage Equipment Limited
Unit 28 Brunel Way,
Cooper Road,
Thornbury, Bristol
BS35 3UP
Sign up to receive our newsletter
By submitting this form you agree to our privacy and data protection policy which governs how we deal with personal data.