What Information is needed to Design Pallet Racking – Free Tool
Download Our Free Design Elements Tool
How To Keep Warehouse Workers Happy and Motivated

A question we get asked a lot is, ''what information do you need to quote me for some shelving/racking?''
Use our handy diagram to understand which elements must be considered when designing a pallet racking system.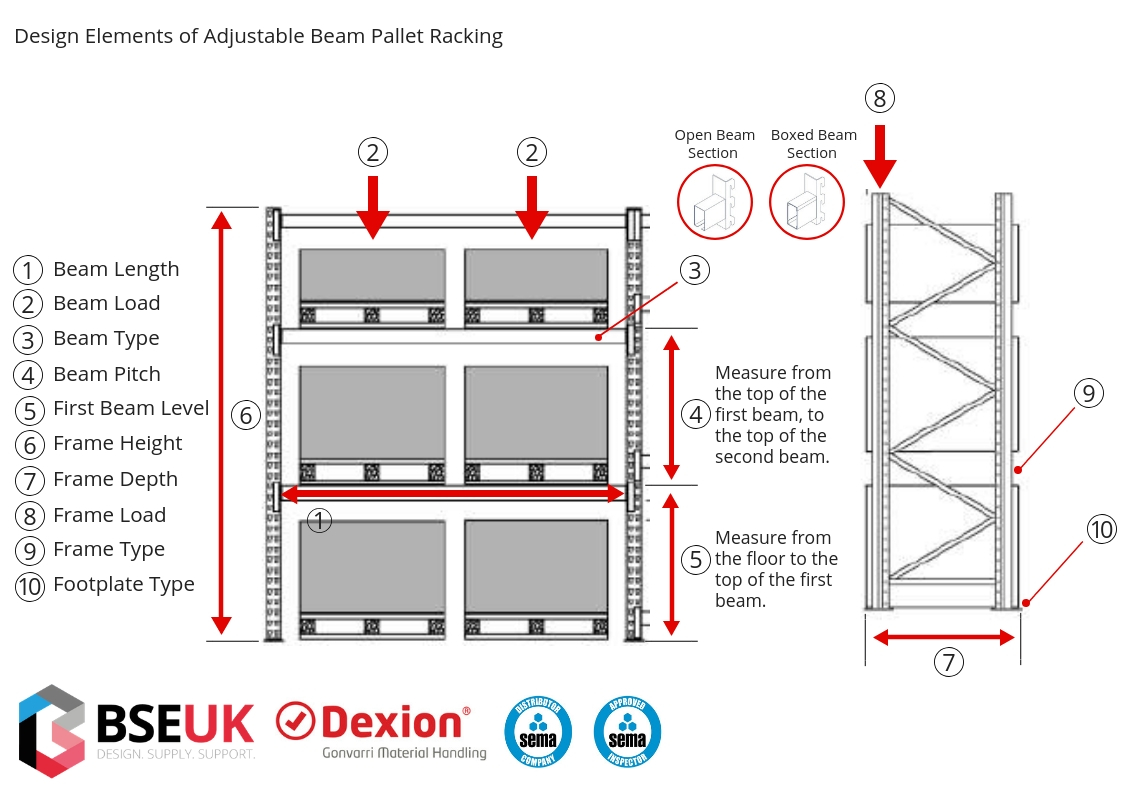 Top Tips from our team for taking measurements:

"Make sure you allow operational clearances for your pallets when calculating the number of beam levels in the height." - George
"You will need to allow 75 to 100mm clearance between each pallet on a beam level." - Paul
"Use a rigid tape measure, if you have one available this will make it a whole lot easier as you will be able to reach right to the top and back of the rack." - Simon 
"Do a simple sketch, I'm not the best at drawing so I do mean simple. But I always find it helpful when I'm measuring up so I can write the dimensions and visualise the rack." - Matt 
"You need to allow 50mm overhang for your pallets at the front and rear of your racking, to be in line with SEMA i.e if you pallet is 1000mm Deep, you need a 900mm Deep rack." - Dennis
What Information Is Needed To Design a Pallet Racking System?
A number of elements must be considered when designing a pallet racing system to ensure it meets your requirements. These include:
Beam Length
Beam Load
Beam Type 
First Beam Level
Frame Height
Frame Depth
Frame Load 
Frame Type 
Footplate Type
Talk To The Experts
If you are able to provide us with all of the measurements on our handy diagram, we can get straight to work on designing your pallet racking system to SEMA standards. If you're still not sure on what you need to do, that's okay too.
We know it can be confusing, were here to help. Just give the office a call and one of the team can come to the rescue. You can get a quick quote by emailing us on [email protected] or calling the office on 0117 955 5211.
Bristol Storage Equipment Limited
Unit 28 Brunel Way,
Cooper Road,
Thornbury, Bristol
BS35 3UP
Sign up to receive our newsletter
By submitting this form you agree to our privacy and data protection policy which governs how we deal with personal data.