Drive-In Pallet Racking
If you are looking for a way to increase the amount of pallets stored in your warehouse then drive-in pallet racking is the answer.
Increase your storage capacity with Drive-In Racking
Drive-in pallet racking is a great option for bulk storage and it's a very similar principle to block stacking. With a drive in racking system you get a safer solution with greater efficiency. This type of racking operates using the FILO (first in, last out) principle and pallets are accessed from a single aisle.
BSE UK would recommend the use of drive-in pallet racks for:
Slow stock rotation
Storage of delicate or easily damaged items
Bulk storage of a single product
Use with conventional forklift trucks
Cold store or freezer applications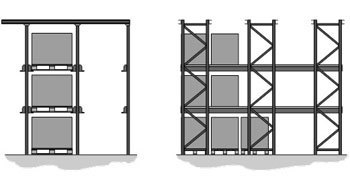 Whether you have a quick question about drive-in racks, would like to book us in for a site visit to discuss your warehouse storage requirements further or just get the very latest prices and dimensions, please call 0117 955 5211 or email [email protected] today.
Pallet racking case studies

Drive In Pallet Racking - South Wales
Castle Dairies is 'the home of Welsh Butter'. Established as a milk bottling dairy and Caerphilly…
Bristol Storage Equipment Limited
Unit 2 Mead Court,
Cooper Road,
Thornbury,
BS35 3UW
Sign up to receive our newsletter
By submitting this form you agree to our privacy and data protection policy which governs how we deal with personal data.