Steel Partitioning Systems

Steel partitions are the ideal solution for redesigning the layout of your workplace as a temporary or long term solution. Request more information or get a quote today.
Want to find out more about Partitioning?
Choose BSE UK to help offer the right advice and a competitive quote.
Call us today on 0117 955 5211
Steel Partitioning Solutions from BSE UK
Our steel partitions can be used to form offices within factories and warehouses; to create clean room environments or to create high security cages and private work areas. Installing steel walls can create additional space in your workplace – no builders, no mess, no disruption. Our range of partition systems includes specialist products for use in harsher environments such as factories and warehouses.
"We have developed a great relationship with BSE UK here at Alfaholics, their dedication to exceeding our expectations is evident in all aspects of their service, they offer incomparable product knowledge and a quality service at an affordable price."

MANAGER - ALFAHOLICS
Get your free personalised quote now
We can supply steel partitioning systems at competitive prices with fast delivery, quick turnaround on service and guaranteed same day response. Click the button or call one of the team today on tel 0117 955 5211.
Why Choose BSE UK for your Partitioning System?
Benefits Of Steel Partitioning

Steel partitioning systems can be extremely beneficial to businesses of all shapes and sizes, particularly those that are going through periods of growth. The key benefits include:
Quick and easy to install with zero disruption to business operations
Can easily be relocated or reconfigured, offering more flexibility than a more permanent structure such as a mezzanine floor
Create functional space even in noisy and harsh environments
Economical and cost effective with minimal maintenance required once installed
Available in a range of styles and colours to compliment your existing design
Can be used in conjunction with a mezzanine floor to create additional space
End to End Partition Installation Service 
Unlike some online suppliers, we provide an all-encompassing service for partition systems across the whole of the UK, offering an initial site survey from one of our expert team and a full design and installation service - we'll ensure that your partition system is optimal for your operation and its needs and can provide accessories such as lighting, furniture and air conditioning systems. 
Our relationships with some of the world's most established partitioning manufacturers mean that we're able to achieve the best lead times for our clients, ensuring a quick turnaround on service carried out at a time that suits you.
Upon completion, we are on hand to provide any aftercare, maintenance and repairs that may be required in the future.
Clean Room Partitioning Systems 
When used with the appropriate air handling and HVAC systems, a double skin partition system can be used to create a Class 5 clean room environment.
View Our Image Gallery
Read our partitioning case studies
PF Cusack Case Study
PF Cusack contacted BSE UK to provide a competitive quotation to rack out their new build warehouse in Highbridge, Somerset…

Mezzanine Flooring, Partitioning and Warehouse Lighting Case Study
The objective was to create a functional warehouse with an office for staff and additional space for storage...
Specialist Steel Partitioning Systems for Factories and Warehouses
"Our range of partition systems includes specialist products for use in harsher environments such as factories and warehouses. Whatever your requirements, we have a solution for you and offer a free site survey before all our jobs to ensure the system we recommend is optimal.
Click the button to email me directly and get a free quote"
George Ives - Sales Manager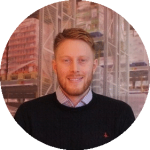 Frequently Asked Questions
Talk To The Experts
A partition system could make a significant difference to the efficiency and cost effectiveness of your operation. If you require more information, or want to book a free site survey, contact one of our friendly team today on 0117 955 5211, fill out a contact form or use the live chat to discuss your requirements.
View our steel partition gallery
Bristol Storage Equipment Limited
Unit 28 Brunel Way,
Cooper Road,
Thornbury, Bristol
BS35 3UP
Sign up to receive our newsletter
By submitting this form you agree to our privacy and data protection policy which governs how we deal with personal data.