Push Back Racking Systems
Push back style pallet racking is a highly efficient storage system most suited to warehouses looking to utilise product specific lanes. The First In, Last Out principle is key to the operation of push-back racking, and it is suitable for use with standard forklift trucks.
The benefits of Push Back racking systems include:
Maximise the cube
Increase efficiency
Fast access to pallets
Reduced Maintenance
Bulk Storage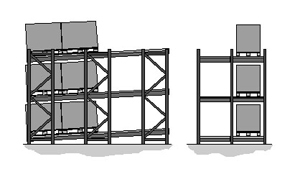 Push back systems offer the advantages of greater accessibility and all lanes being readily accessible. Push back racks are ideal for both fast and slow moving warehouse and logistical operations.
Cart push back pallet racking allows you to store up to four pallets deep per level. Pallets are placed on the carts that are fitted onto sloped storage lanes and pushed back along the rails when new pallets are added. The balanced incline of the push-back racking structure means that pallets towards the back of the lane move forward when the pallet at the front is removed.
Roller push back pallet racking works buy using an adjustable pallet racking system as a base, a roller system is installed into the channels of the racking system. A Roller system allows you to store up to ten pallets deep, and works by allowing each pallet to be pushed back on the rollers when a new one is added. When a pallet is unloaded the other pallets roll forward at a controlled pace, due to a 4 degree incline installed in the system.
If you require further prices, specifications or dimensions for Push Back Racking, please contact us now on

0117 955 522

or click here.
What Is Pallet Racking?
BSE UK's pallet racking service can help you maximise existing space without costly relocation or expansion.
Watch our video to find out more about pallet racking and how it can benefit your business.
Bristol Storage Equipment Limited
Unit 28 Brunel Way,
Cooper Road,
Thornbury, Bristol
BS35 3UP
Sign up to receive our newsletter
By submitting this form you agree to our privacy and data protection policy which governs how we deal with personal data.