Adjustable Pallet Racking Systems
Adjustable pallet racking is what you might call a 'typical' racking system. It's flexibility makes it the perfect storage solution for many warehouse operations.
Adjustable pallet racking owes its popularity to its simplicity, versatility and dependability. Operational with standard forklift trucks it's a storage system suited to a variety of warehouse operations and applications, made possible by the different widths, depths and heights. 
Adjustable pallet racking is able to be configured with any pallet size and in any configuration, this means it can be adapted to suit your warehouse.
Our adjustable racking systems offer users:
Adjustable beam positions
Heights of up to 30 metres
Quick access to pallets
Easy installation
Store products of different shapes, sizes and weights
Accessories available i.e. Decking, Pallet Backstops, Pallet Support Bars and more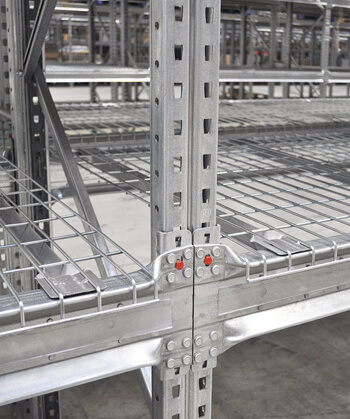 View our adjustable pallet racking gallery
Pallet racking case studies

Dexion P90 pallet racking with carton flow system
BSE UK recently undertook work for Lens Online a company that is part of…

Dexion Racking Case Study London
Seahawk Marine Foods Ltd are specialist importers and distributors of the worlds finest seafoods...
Bristol Storage Equipment Limited
Unit 2 Mead Court,
Cooper Road,
Thornbury,
BS35 3UW
Sign up to receive our newsletter
By submitting this form you agree to our privacy and data protection policy which governs how we deal with personal data.