Buying a Mezzanine Floor In 2024? Free Detailed Guide
Free Detailed Guide to Mezzanine Flooring 2024
The Ultimate Guide to Mezzanine Floors 2020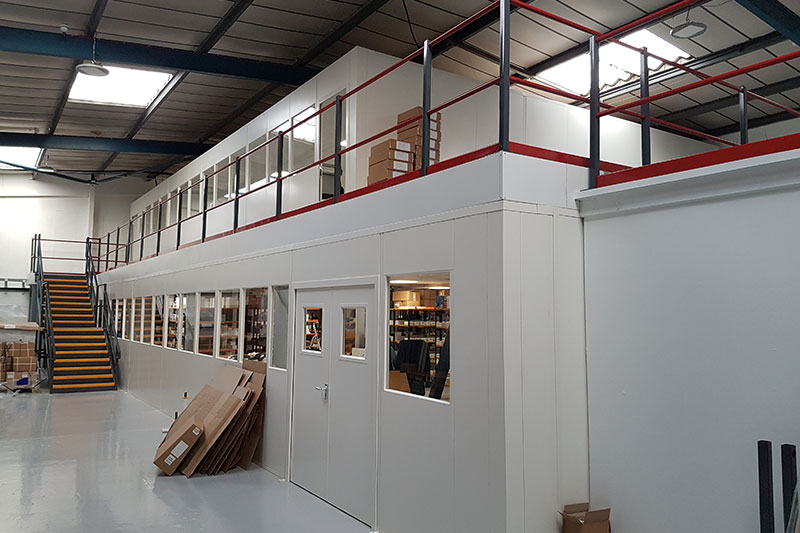 A mezzanine floor is the ideal solution when looking to increase storage or working space within environments such as offices, retail outlets, warehouses and factories.
Within these settings, mezzanine floors are utilised to maximise space by making use of unused overhead areas; negating the need to expand or purchase a new premises.
A mezzanine floor is a large investment for businesses, but can offer return on investment in the long run through improved efficiency and further utilisation of available space.
Read our ultimate mezzanine floor guide to find out everything you need to know about these space saving structures including benefits, what you need to consider, components, applications, and accessories.
What Is a Mezzanine Floor?
By definition, a mezzanine floor is an intermediate floor which is constructed between two permanent floors within a building; they are designed to cover a specific area of the floor space rather than its entirety.
Mezzanine floors are semi-permanent structure and can be dismantled and relocated as required, this makes a scalable solution for businesses that anticipate future growth or relocation.
Generally constructed of steel, mezzanine floors are extremely robust and durable. They can be utilised as a permanent floor for storage, extra space, offices or similar.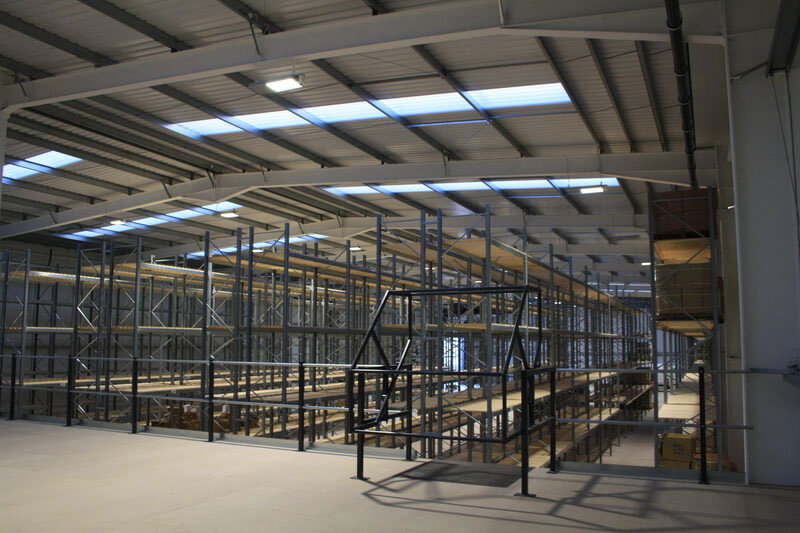 Benefits of a Mezzanine Floor
A mezzanine floor can be a valuable addition to your space, offering several key benefits including:
Maximise space by utilising vertical space within the premises. Multi-tier structures can improve the utilisation of space even further.
Increase sales opportunities per square foot in sales environments.
Make use of unused space without costly expansions or relocations.
Adaptable and scalable to your business growth and needs.
The installation process is non disruptive and can be completed in as little as 5 days with zero downtime.
Once installed, a mezzanine floor will add value to your premises should you ever wish to sell.
Can be configured to provide a complete view of the working environment.
Can help improve organisation, stock control and picking times.
Components of a Mezzanine Floor
Whilst the exact components of a mezzanine floor will vary dependant on the application, typically mezzanine floors are made up of 5 key elements:
Base Plates – Typically constricted of steel, these base plates are bolted to the ground to ensure the mezzanine has solid foundations. The size and thickness of the plates will depend on the load requirement of the mezzanine.
Support Columns – These columns are designed to support the structure and distribute the load equally across it. They can be configured flexibly to suit the layout of the floor below.
Primary Beams – The beams run across the columns of the structure and the primary support. The thickness of these beams will depend on the load requirements.
Floor Purlins – Otherwise known as the secondary beams, they span between the primary beams and are the fixing points for the decking above.
Decking – The decking is the floor of the structure. There are a range of different decking options to suit all requirements including non-slip and wear resistant.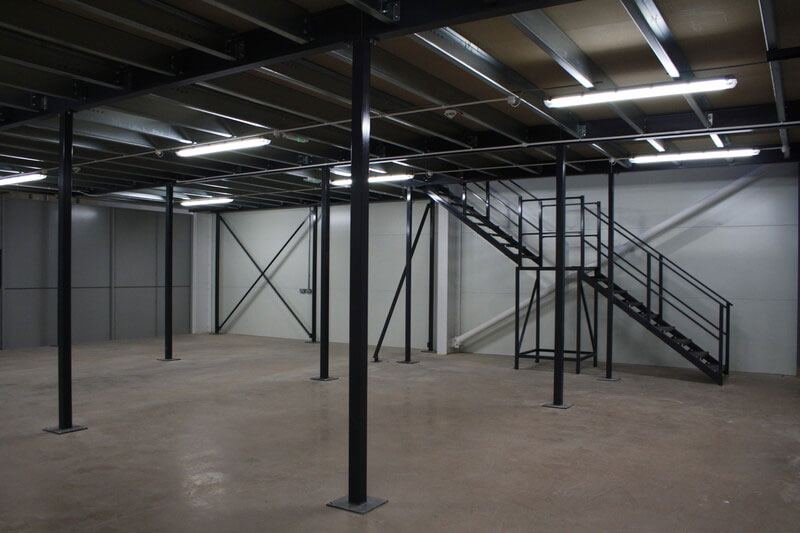 Planning  for a Mezzanine Floor
If you are in the early stages of planning for a mezzanine floor, there are a number of considerations you should be aware of.
In some cases, planning permission will be required to erect a mezzanine floor.
Mezzanine floors will also require building regulations approval.
If your mezzanine floor is used as a permanent work area or exceeds 400m2, it must be fire rated as per the UK Building Regulations.
Where the floor is being used by the public, the stairs and handrail must be suitable for public use.
Dependant on the purpose of the space and the load it will bear, the structure may differ in terms of beam size and support columns.
To prevent injury, handrails with a top and mid rail and toe boards should be installed.
Under the Construction Products Regulation, all steel structures must have the CE mark to ensure quality and safety, this includes mezzanine floors.
At BSE UK, we take care of every aspect of your project to ensure that your mezzanine floor has approval and is a safe environment for employees and the public.
Typical Mezzanine Floor Applications
Mezzanine floors are extremely versatile as the space created can be utilised for almost any purpose, mezzanine floors are a popular solution in the warehousing, retail, leisure, automotive, automation, hospitality and manufacturing industries.
The space created by a mezzanine floor can be utilised for several purposes, common applications include office space, storage and stockrooms, gyms, new working areas reception areas, showrooms, breakout rooms, reception areas, washrooms and much more.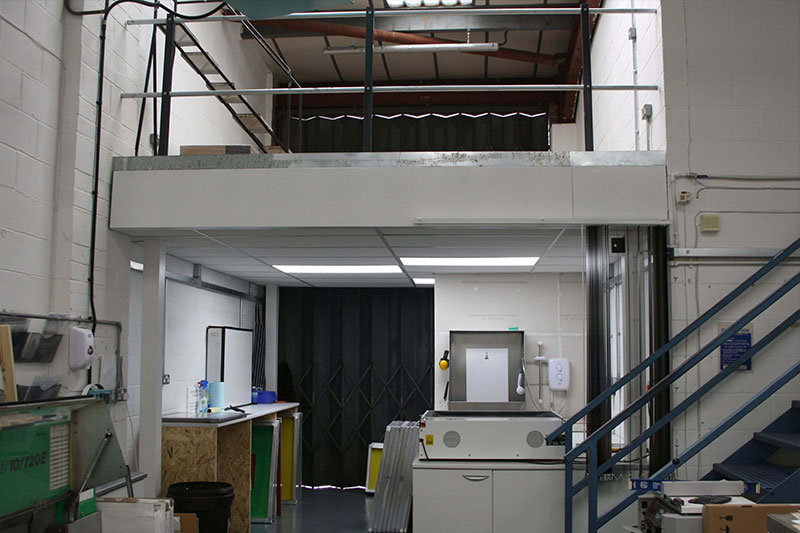 Mezzanine Floors Accessories
Mezzanine floor ancillaries can be used to develop the structure for a specific purpose or enhance its safety, accessories often fitted to mezzanines include:
Staircases – Staircases offer fast access to the mezzanine, they are available in a range of styles and configurations to suit the requirement.
Pallet Gates – Pallet gates offer a safe access point for loading and unloading to and from the mezzanine without putting workers in danger.
Lifts – Often used in industrial environments, mezzanine lifts can be fitted to move stock, these can be configured to suit loads ranging from 250kg through to 10,000kg.
Edge Protection – Proper edge protection reduces the risk of stock being damaged or employees being injured by falling from the mezzanine.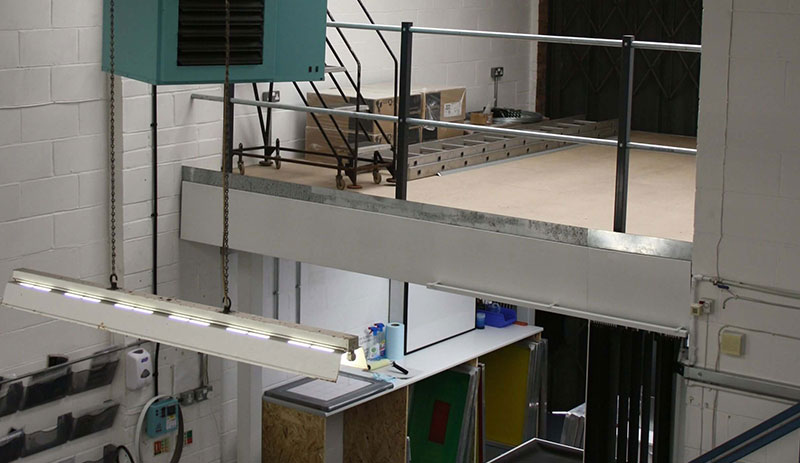 Maximise Space with a Mezzanine Floor
Could your business benefit from a mezzanine floor to utilise vertical space and improve efficiency? At BSE UK, we've been designing and installing mezzanine floors for over 40 years and can assist with every aspect of the process.
As part of our service, we will obtain Building and Fire Regulations approval on your behalf and provide you with detailed CAD drawings and structural calculations before the project goes ahead.
All of our structures are designed and installed to CE standards with safety in mind. To book your free site survey with one of our team, call us today on 0117 955 5211 or fill out a contact form and we will get back to you.
Bristol Storage Equipment Limited
Unit 28 Brunel Way,
Cooper Road,
Thornbury, Bristol
BS35 3UP
Sign up to receive our newsletter
By submitting this form you agree to our privacy and data protection policy which governs how we deal with personal data.