Pallet Racking Protection
We supply and install a wide range of rack protection equipment to improve safety, reduce the risk of rack collapse and protect your investment.
Rack Protection Equipment Supplied and Installed
Failing to protect your racking can be detrimental to your operation, resulting in damaged stock, loss of revenue or, most consequently a racking collapse; which can result in injury and complete shut down of your warehouse or storeroom.
It is highly recommended that any pallet racking bay is fitted with racking protection to ensure peace of mind, prevent the risk of injury and reduce damage to stock.
At BSE UK, we can supply and install a complete range of pallet racking accessories including rack protection products, browse a selection of our range below.
Tubular Barrier Protection
Often constructed from steel, tubular barriers offer a high level of protection for pallet racking end frames against forklift collisions and other damage.
These barriers are fixed to the floor with a base plate and can also be used to restrict vehicle access to areas.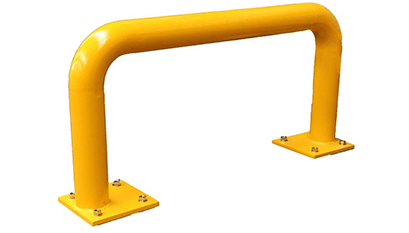 Racking Barrier
Racking barriers are a heavy duty racking protection option which are recommended in a busy warehouse.
Comprised of 2 floor mounted column guards and a drop in beam, racking barriers offer further protection vs. column guards and can withstand heavy impacts from forklifts.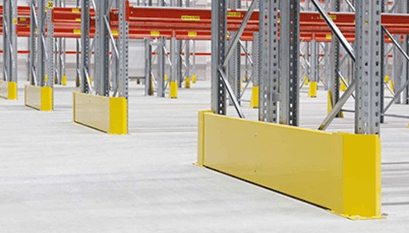 Rail Barrier
As well as being a heavy duty solution to protect against collision, rail barriers are designed to be highliy visible – increasing driver awareness and reducing the risk of impact in the first place.
Rail barriers are a protection solution that's versatile and easy to fit, simply bolting to your existing column guards.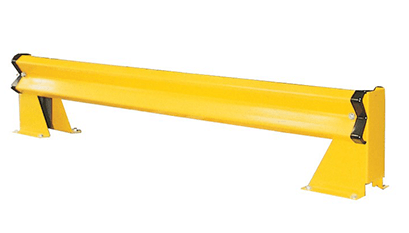 Upright Protection
Upright protection is an effective and inexpensive option for protection of pallet racking, offering immediate protection to uprights from collision and other damage. Upright protection is available in a range of different configurations to suit your system and preference including:
Column guards
Bolt on column guards
Corner guards
Clip on protect-it column guards
View our upright protection gallery below to see a selection of the wide range we have available.
Why Fit Racking with Protection?
As well as protecting your investment, there are a number of reasons why pallet racking protection is recommended including:
Reduce the damage caused by collisions with warehouse vehicles.
Promote a safer working environment for workers and visitors.
Lower or eliminate any associated rack repair costs as a result of collision.
Increase the lifespan of your racking system.
Eliminate the risk of any downtime caused by damage to racking system.
Reduce the risk of pallet racking systems collapse.
Racking Protection Products from BSE UK
Are you looking for racking protection that suits your budget and level of risk? We can help. We offer a wide range of racking protection equipment and can provide recommendations based on your needs and budget.
For more information, call one of our team today on 0117 955 5211, fill out a contact form or use the live chat to connect ot a member of the team instantly.
Pallet racking case studies

Dexion P90 pallet racking with carton flow system
Bristol Storage recently undertook work for Lens Online a company that is part of…

Pallet Racking Case Study
BSE UK were contacted by Nissin UK as they had a new customer that needed 1000 pallet location in less than 2 weeks...
Free Rack Inspection Checklist
Bristol Storage Equipment Limited
Unit 28 Brunel Way,
Cooper Road,
Thornbury, Bristol
BS35 3UP
Sign up to receive our newsletter
By submitting this form you agree to our privacy and data protection policy which governs how we deal with personal data.