Free Rack Inspection Checklist - Download Here
Download Your FREE Rack Inspection Checklist
Download Your FREE Rack Inspection Checklist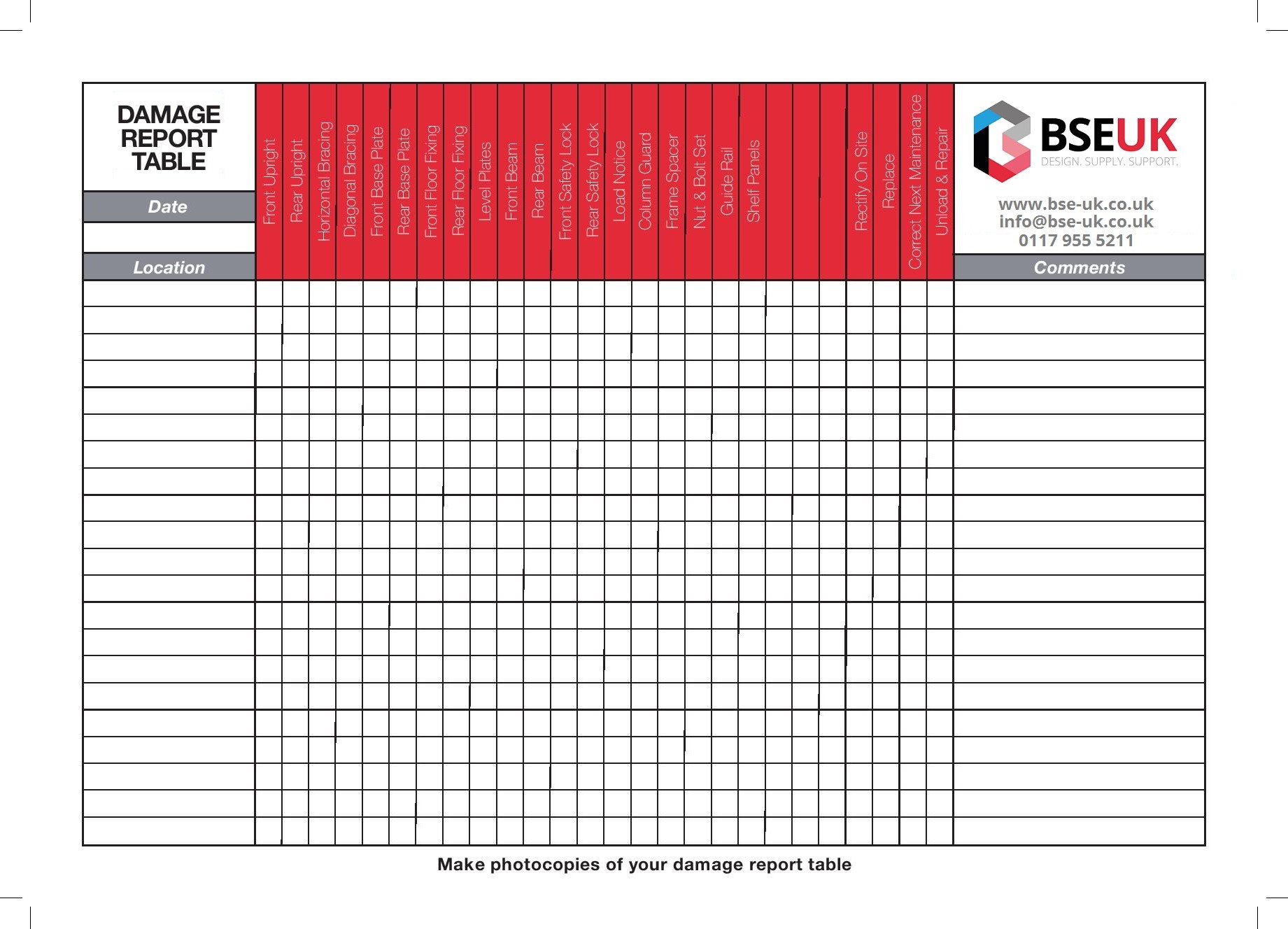 Click the button to download your inspection sheet and help your team carry out regular safety checks on your racking.
Pallet racking is defined as 'work equipment', meaning that it's the responsibility of you as an employer to ensure it is compliant with current Health and Safety legislation; the recommended way of ensuring compliance is with an annual racking inspection.
Failure to regularly inspect and properly maintain your racking can result in fines for non-compliance, injuries in the workplace, potential downtime, and expensive repairs or replacements due to preventable damage to your racking system.
Find out more about the damage uninspected racking could have on your business, plus download your free rack inspection damage report table from BSE UK below.
SEMA Racking Inspection Process
At BSE UK, we're SEMA approved racking inspectors, meaning we can carry out independent racking inspections in line with SEMA's high standards for racking safety.
In addition to annual checks, a rack inspection is highly recommended where: damage to racking already exists, you have an upcoming Health and Safety inspection or you do not know the safe load capacity of your racking.
A SEMA approved racking inspection includes:
Rack identification.
Rack safe working loads.
Rack damage identification.
Layout plans, best practice observations and recommendations.
At the end of the inspection, you'll be provided with a comprehensive, easy to understand report detailing the current health of your pallet racking or shelving system, safe working loads of your racking system, and a clarification of all damage with recommendations to ensure compliance and extend the life of your racking system.
Benefits of Carrying Out Routine In-house Visual Racking Inspections
Carrying out routine in-house visual inspections can help to identify damage to your system before it becomes dangerous and expensive to repair. When carrying out visual inspections of your racking, take note of any damage that is evident to the:
Front and rear uprights.
Horizontal and diagonal bracings.
Front and rear base plates.
Front and rear floor fixings.
Front and rear floor beams.
Level plates.
Front and rear safety locks.
Load notice.
Column guards.
Frame spacers.
Nut and bolt sets.
Guide rails.
Shelf panels.
Rack safety awareness training is a cost effective way of ensuring that you and your staff understand how to spot damage to racking through routine visual inspections, how to maintain your racking system and also how to put measures in place to reduce the risk of any damage to racking occurring.
SEMA Approved Racking Inspectors
At BSE UK, we're SEMA approved racking inspectors, meaning we can carry out independent racking inspections in line with latest SEMA and HSE guidelines. If you're concerned about damage to your racking or want to book in for an inspection – call our team today on 0117 955 5211 or fill out the form below to request a callback.
Request a Callback
Bristol Storage Equipment Limited
Unit 28 Brunel Way,
Cooper Road,
Thornbury, Bristol
BS35 3UP
Sign up to receive our newsletter
By submitting this form you agree to our privacy and data protection policy which governs how we deal with personal data.