Narrow Aisle Pallet Racking Systems
Narrow Aisle racking offers many of the same benefits of conventional Wide Aisle Pallet Racking, however it is characterised by it's extremely narrow operating aisle combined with an increased working height.
Pick Fast & Efficiently with a Narrow Aisle Pallet Racking System
When warehouse floor space is at a premium, a Narrow Aisle pallet racking system enables you to increase throughout by really squeezing the most out of the existing space.
Used in conjunction with specialist Narrow Aisle forklift trucks or a fully automated picking operation.
Benefits of a Narrow Aisle system include:
Maximising the cube
Increased throughput
Minimized rack damage
Increased efficiency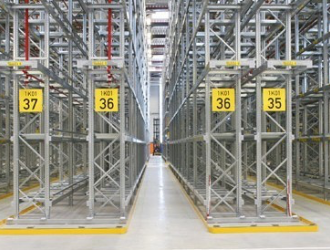 Pallet racking case studies

Dexion P90 pallet racking with carton flow system
BSE UK recently undertook work for Lens Online a company that is part of…
Bristol Storage Equipment Limited
Unit 2 Mead Court,
Cooper Road,
Thornbury,
BS35 3UW
Sign up to receive our newsletter
By submitting this form you agree to our privacy and data protection policy which governs how we deal with personal data.