Dexion P90 Wide Aisle Pallet Racking
Dexion P90 wide aisle racking is the most common form of pallet racking and is the ideal storage system if you are looking for a standard adjustable pallet racking set up.
Dexion Wide Aisle Pallet Racking for the Warehouse
Dexion P90 wide aisle racking is the most common form of pallet racking and is the ideal storage system if you are looking for a standard adjustable pallet racking set up. Access to pallets is unrestricted, making Dexion P90 pallet racking ideal for a wide range of picking operations. With no limitations placed on the layout and the possibility of building racks up to 30 metres high, this type of racking is a flexible and economical warehouse storage system.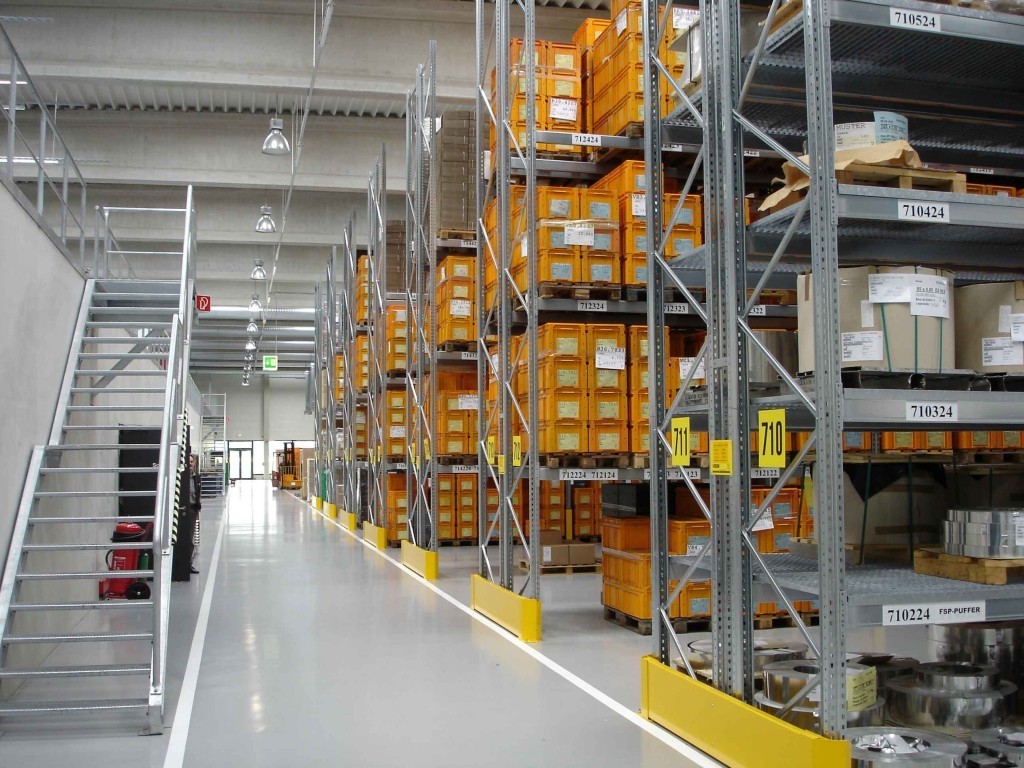 Adjustable beam positions every 50mm
Achieve rack heights of up to 30 metres
Access to individual pallets
Easy to install and re-locate
Cost effective
Conforms to EN, FEM, SEMA, and INSTA Design Standards.
Environmentally friendly production method
Advanced surface finish for long-term durability
Enhanced structural strength due to new 'I' beam profile
Reduced risk of damage due to wider aisles
Improved location visibility with profile beam
Adjustable pallet racking systems remain the most popular form of pallet storage. Its simplicity, flexibility and reliability mean that Dexion P90 adjustable racking for wider aisles is suited to a variety of industrial applications, no matter what you are storing.
Increased Safety with Dexion P90 Silverline
The low profile 'I' beam means that rack aisles are wider creating precious space for forklift trucks to operate in. This increased aisle width reduces damage to racking caused by forklift trucks and offers a more efficient use of warehouse space.
The shoulders of the beam connectors encourage truck operators to keep pallets well clear of the uprights – further enhancing the safety of the racking. The red beam safety locks used with the new P90 Silverline system are really easy to see, giving drivers utmost confidence when loading pallets, that the storage system is in a safe working order.
Pre Galv: Future Proofed Racking
The pre-galvanised finish of the Dexion P90 Silverline pallet racking provides a durable finish that will last much longer than the traditional painted beams used in most racking systems. Dexion led the market several years ago with pre-galvanised uprights, so it only makes sense that they continue the improvement of warehouse storage products by introducing pre-galvanised beams to their product portfolio.
Dexion P90 Pallet Racking Gallery
Standard Rack Dimensions
The Dexion P90 pallet racking system is designed to suit standard pallet dimensions to ensure that space is maximised at all times, throughout the system. All Dexion racking systems can be manufactured to meet your bespoke requirements, however standard dimensions of Dexion P90 racking are available in stock.
Frame Depths: 900mm and 1,100mm
Frame Heights: 1,500mm to 13,000mm (as single piece uprights)
Beam Lengths: 1,500mm to 5,000mm
Standard Load Data
Load per Level: up to 5,000Kgs
Load per bay: up to 30,000Kgs
Standard Finish
Frames: Pre-galvanised
Beams: Painted or Pre-galvanised
Accessories for Dexion P90 Pallet Racking
Upright protection and Column guards2012-mesh-panel-(2)
Rack end protectors
Mesh or timber decking and steel shelves
Tubular barriers
Pallet Support bars
Pallet backstops
Anti collapse mesh
Rack labelling and Aisle marking systems
With an extensive range of accessories you can easily adapt any Dexion P90 system to fit your business needs. Special sized beams, pallet support bars, mesh decking and shelves can all be provided, as well as rack protection systems in the form of upright protectors, column guards and safety barriers.
Approved suppliers of Dexion P90 Adjustable Pallet Racking uprights and beams to businesses in the UK. Call BSE UK today on 01179 555 211.
Bristol Storage Equipment Limited
Unit 28 Brunel Way,
Cooper Road,
Thornbury, Bristol
BS35 3UP
Sign up to receive our newsletter
By submitting this form you agree to our privacy and data protection policy which governs how we deal with personal data.