Pallet Racking Accessories
We hold stock to a wide range of accessories for pallet racking to improve safety, organisation and efficiency. Explore our range below or contact us for more information.
Wide Range of Accessories Supplied and Installed
At BSE UK, we provide a complete range of ancillary options for pallet racking to ensure that it's suitable for your requirements. Our range includes everything from row spacer and pallet decking to load signs and back of rack protection.
As well as supply, our fully qualified team can help with the installation of any of the below accessories to your pallet racking system. If you're unsure what you might need, get in touch with one of our team today or check out our top 10 racking accessories blog.
Row Spacers
Row spacers fit to the uprights of double entry racks and are used to provide additional strength for the system as well as ensuring racking is spaced the same distance apart.
The row spacers we supply are galvanised and scratch resistant.
Row spacers should be fitted between each pair of frames in a racking system.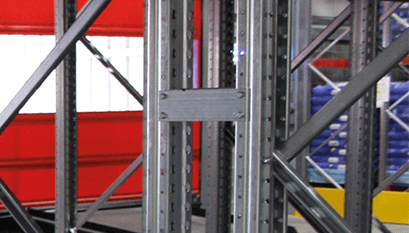 Rack Labels and Signs
Rack labels and signs give workers the information they need to operate racking safely whilst working efficiently.
Our range includes standard codes, magnetic labels, vinyl labels and more.
We recommend that you display the weight limit of all pallet racking clearly with a rack load sign.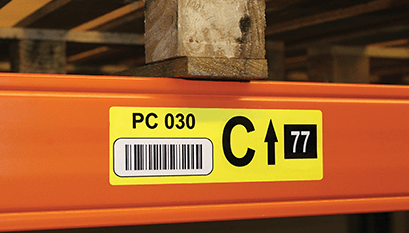 Pallet Support Bars
If a pallet is weak, sagging or carrying a very heavy load, pallet support bars can be used to provide extra support.
Our range of pallet support bars can also be used to support chipboard decking.
Pallet support bars should span across the depth of the frame and slot onto the existing beams.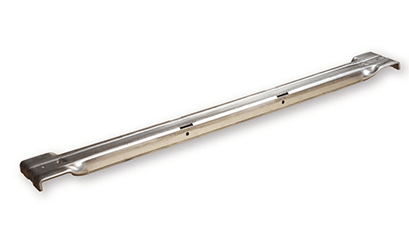 Pallet Racking Decking 
Decking is commonly used for non standard pallet sizes or where small stock is being held to prevent it from falling through, it also helps protect the racking and keep it clean.
Our range of pallet decking includes timber, chipboard and mesh which are available in varying thicknesses and dimensions to suit all requirements.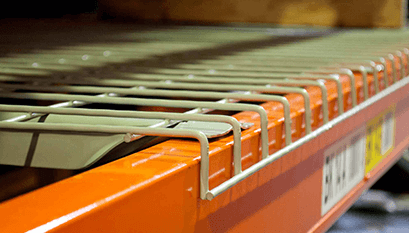 Anti Collapse Mesh or Netting
Anti collapse mesh and netting fit to the back of racking system to prevent items falling through.
Our range of back of rack protection includes both heavy duty anti collapse meshes and lower cost rack netting.
We recommend that you have either of these fitted to all pallet racking aisles with a walkway to protect operatives.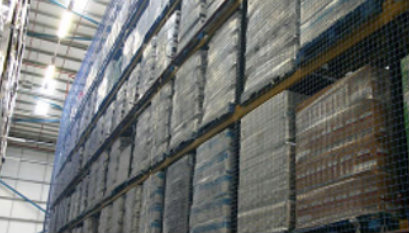 Beam Locking Pins
Beam locking pins, sometimes referred to as beam clips, beam locks or pallet racking safety pins are designed to secure racking beams to the frames.
These safety devices are required as part of the SEMA code of practice and thus we highly recommend having them installed, you should have 2 beam locking pins per beam within your system.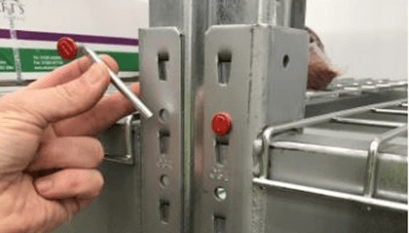 Racking Protection
Racking protection helps protect your racking and stock whilst also keeping staff safe from a potential rack collapse.
Our range of rack protection equipment includes:
Column guards,
Upright protectors,
Barriers
And more - visit our dedicated page for more information here.
Talk To Our Expert Team
If you need accessories for your pallet racking system, or want to speak to one of our team about what accessories you might benefit from, we can help.
Get in touch with us today on 0117 955 5211 fill out a contact form or use the live chat to speak to one of our team instantly.
Pallet racking case studies

Dexion P90 pallet racking with carton flow system
Bristol Storage recently undertook work for Lens Online a company that is part of…

Dexion Mobile Shelving and
Racking in Essex
Bristol Storage Equipment Ltd were invited in to this site in Essex by an existing customer…
Free Rack Inspection Checklist
Bristol Storage Equipment Limited
Unit 28 Brunel Way,
Cooper Road,
Thornbury, Bristol
BS35 3UP
Sign up to receive our newsletter
By submitting this form you agree to our privacy and data protection policy which governs how we deal with personal data.