How To Prevent Potentially Fatal Pallet Racking System Collapses
The Causes Of Pallet Racking Collapses and How To Prevent Them
A pallet racking collapse can be fatal | Pallet Racking Maintenance
When a pallet racking system collapses, it can cause hundreds and thousands of pounds worth of damage to stock, temporarily bring business to a halt and pose a credible threat of serious injury to anybody present at the time of collapse.
In most cases, pallet rack collapses are entirely preventable and happen as a result of bad practice, poor quality or unmaintained racking and improper training.
In this blog post, we take a look at the risks associated with a racking collapse, what causes a racking system to collapse and the measures that can be put in place to prevent it from happening.
Understanding the Risks of Pallet Racking Collapses
As well as the immediate risk to life, pallet racking collapses pose a number of risks to businesses and operatives including:
Injury – As well as severe injuries, pallet racking collapses have resulted in death before.
Fines – Under PUWER (Provision of Work Equipment Regulations), failure to keep working equipment (including pallet racking) in safe and working order can result in large fines and even prosecution from HSE.
Destruction of Stock – Stock will almost certainly be damaged if not completely destroyed as a result of racking collapse.
Downtime – In addition to the time taken to clear the debris and begin the cleanup operation, HSE may launch an investigation into the origins of the collapse should it see fit, resulting in even more downtime.
Loss of Business – If customers orders cannot be fulfilled, contracts may be lost and the company's reputation will be negatively impacted.
Preventing the Causes of Racking Collapse
Take a look at some of the most common reasons why racking systems collapse as well as tips for prevention which will cost a fraction in comparison to a collapse.
Failure to Maintain Pallet Racking
As well as increasing the risk of collapsing on its own, damaged or poorly maintained racking increases the risk of collapse when coupled with other causes such as forklift collisions or overloading. In order to keep your racking in its best condition:
Carry out routine visual inspections for any damage. Download our free rack inspection checklist sheet which highlights where you need to check for faults.
Have a full inspection carried out annually or if you notice damage to your system. For the greatest peace of mind, choose a SEMA approved racking inspector who will provide you with a full damage report.
Ensure that any damage to warehouse racking is reported immediately. Avoid using the pallet racking until it is repaired.
Operate and maintain pallet racking in line with manufacturer guidelines.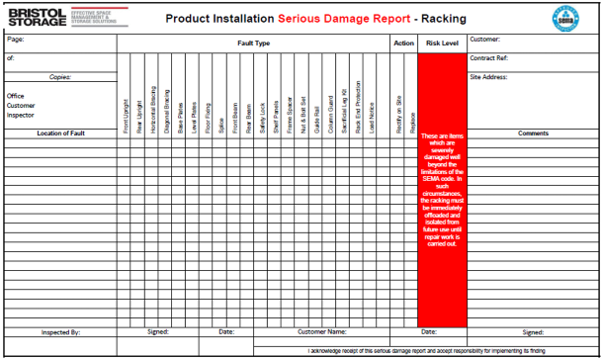 Forklift Collisions
Collision with forklifts is one of the most common causes of racking collapse. In the video below, we see a forklift operative carrying a wide pallet through the warehouse, before clipping the column of a rack and causing an entire system to collapse.
In this case, it's clear that the operative is driving too fast and carrying an unsuitable load for the narrow aisles. However, the system collapsing following such a small knock is an indication that the racks were overloaded or poorly maintained.
There are a number of methods that can be implemented to decrease the risk of a forklift collision and reduce the risk of collapse should one occur.
Design systems with adequate space in between racks. As we saw in the video above, with a little more space, the racking collapse would've been avoided.
Install rack protection including column guards, upright protectors and racking barriers to reduce the risk of collapse should a forklift collide with the system.
Ensure driver's receive proper training before operating forklifts.
Ensure forklift safety practices are followed at all times by operatives.
Implement speed limits for forklifts operating within the warehouse.
Implement a clear floor marking system.
Ensure the warehouse has adequate lighting.
Ensure the correct type of forklift for the job is used.
Keep aisles clear of any obstructions that will force forklift operatives to manoeuvre.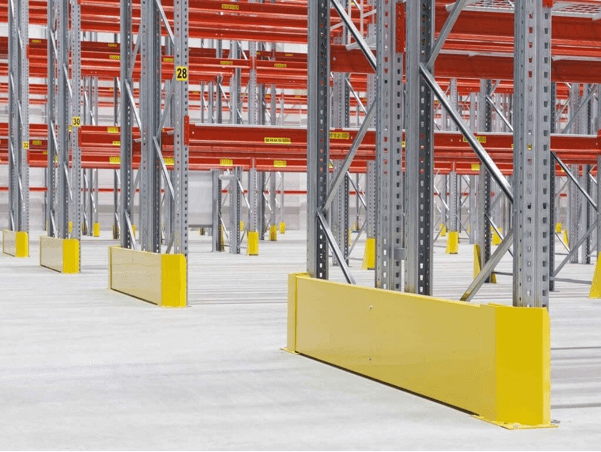 Overloading
When a racking system is overloaded beyond its limit, there is a chance that it could collapse. Additionally, overloaded racking systems are more prone to structural damage and more likely to collapse should they be struck by anything. To avoid overloading your racking:
Know and abide by the manufacturer recommended weight limits, read our blog to find out more about calculating the weight limit of your pallet racking.
Avoid buying second-hand pallet racking, this may have hidden damage and may not come with specific guidance around weight limits.
Ensure that staff and forklift operatives are aware of the weight limits of the system when loading by displaying load notices at all times.
Ensure that you are using the right type of racking for your stock. For example, long and bulky items are generally better stored in a cantilever racking system. Additionally, storing heavier loads in lower bays is good practice for reducing the risk of injury and improving efficiency.
Staff Negligence
Unfortunately, even with the best safety measures in place, a racking system collapse can still occur as a result of staff negligence. To reduce the risk of this:
Consider rack safety awareness training to improve staff awareness of rack safety and the dangers associated with poorly maintained racking.
Encourage staff to report any damage they may have caused to pallet racking.
Increase supervision and management awareness to reduce incidents.
Ensure staff do not climb on racking when picking.
Train supervisory staff to pick up on any negligent behaviour that could lead to a collapse.
Poor Layout or Design
Poor layout or design of a pallet racking system can be its downfall. In the video below, you'll see a forklift driver manoeuvring past a pile of stock in between two fully loaded pallet aisles.
After moving to avoid the stock in the centre of the aisle, he inadvertently gently knocks one of the columns, as a result, the entire racking system collapses causing a domino effect that takes down the majority of the warehouse.
In this instance, the layout of the aisles was at fault, with the obstruction in the middle leaving inadequate space for the forklift. Additionally, the fact that the system went down after such a small knock indicates that it was overloaded, improperly installed or poorly maintained.
The layout of a warehouse may become more dangerous as the operation grows, with new systems being added on and retrofitted without proper consideration. To prevent the risk of design or layout issues causing collapse, warehouse managers should ensure that any design or installation is carried out by a professional.
Incorrect installation
Incorrectly installed pallet racking is much more likely to become damaged or collapse. To prevent the risk of pallet racking being installed wrong:
Use a professional accredited company who can install the system to the exact manufacturer specifications.
For complete peace of mind, you should look for a SEIRS registered installation team who will install the racking in line with SEMA's high standards.
Never DIY anything when it comes to installing pallet racking.
Always buy your pallet racking from a reputable manufacturer.
Don't try and integrate products from different manufacturers into the same system.
Further issues may arise when working with second-hand racking, take a look at our blog on the dangers of used racking for more information.
Use of Bad Pallets
Not all pallets are suitable for use with pallet racking, particularly with drive-in racking systems. BS ISO 6780 2003 provides some useful information on this issue. Broken pallets can lead to beam failure due to irregular pressure placed on beam faces which may lead to a full collapse.
Racking Installation and Maintenance Experts
If you are responsible for the maintenance of pallet racking within your warehouse, you need to ensure your pallet racking system is well maintained, compliant with health and safety legislation and used properly in order to prevent a racking collapse.
At BSE UK, we provide a complete service for the installation, repair and ongoing maintenance of all pallet racking types from leading suppliers. For more information about how we could help you, give us a call today on 0117 955 5211, fill out a contact form or use the live chat to speak to one of our expert team now.
Bristol Storage Equipment Limited
Unit 28 Brunel Way,
Cooper Road,
Thornbury,
BS35 3UP
Sign up to receive our newsletter
By submitting this form you agree to our privacy and data protection policy which governs how we deal with personal data.