PUWER - What Does It Mean For Warehouse Managers? - BSE UK
PUWER – What Does It Mean For Warehouse Managers?
PUWER – What Does It Mean For Warehouse Managers?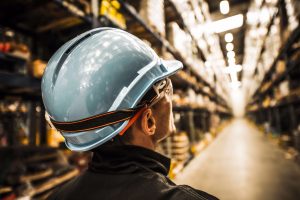 'PUWER' or Provision of Work Equipment Regulations 1998 is the regulation set in place to keep people safe when using equipment whilst at work. This includes employers, employees contractors and suppliers.
Read our latest blog to find out more about PUWER and how you can ensure machinery and working equipment is safe to operate in your warehouse.
Requirements Of PUWER
Under PUWER, warehouse managers will need to ensure that working equipment is safe and suitable for use without posing a risk to the user's health and safety. The requirements for ensuring work equipment is safe to use include:
Equipment is suitable for its intended use.
Equipment is maintained in safe condition and inspected regularly.
Employees using equipment have received adequate information, instruction and training.
Employees are aware of any health and safety measures on equipment such as emergency stop buttons.
Equipment is capable of being safely isolated from a power source.
PUWER does not just apply to large businesses, anyone in any sector that controls or is responsible for work equipment has to follow them.
What Constitutes as 'Work Equipment' Under PUWER
The HSE defines 'work equipment' as any machinery, equipment, appliance, apparatus, tool or installation for use at work. In summary, 'work equipment' covers just about anything used by an employee at work – including equipment they bring in themselves.
Additionally, under PUWER, 'using' work equipment does not constitute simply operating it; responsible persons will also need to ensure that users of work equipment are safe whilst starting, stopping, programming, setting, transporting, repairing, modifying, maintaining, servicing and cleaning work equipment.
What Can You Do to Protect Yourself and Your Employees?
If you are a warehouse owner or manager, it is your responsibility to manage risks caused by work equipment and their use. Here are a few common risks that may be overlooked in the warehouse, and what you can do about them.
Forklift Trucks – Regular inspection, maintenance and repair is essential for keeping your forklift fleet safe and efficient. You may also consider implementing safeguards such as anti-roll mechanisms, driver restraining systems and racking guards to prevent damage and the risk of collapse in the event of a collision.
Staff training is essential when It comes to forklift operation, you must ensure that the person operating the forklift is properly trained and understands health and safety procedures during use of the forklift.
Racking Systems – Many overlook the fact that pallet racking falls under the category of 'work equipment' and thus should be kept in a safe condition. You should aim to have your pallet racking inspected annually by a SEMA approved rack inspector or when damage becomes apparent.
Rack awareness training courses for your warehouse can aid in recognising damage to racking early and increase employee awareness about the risks of damaged pallet racking. Check out our blog to find out 5 ways you can prevent damage to your racking system.

Moving Machinery – Moving machinery carries the potential to cause accidents, whether it is by a projectile, sparks, poor training or a person working in an unsafe proximity to the machine.
Machine Mesh Guards are designed to enclose the machine during operation, to ensure that any flying objects and sparks are contained.
The guard can also be sealed off to prevent any worker entering the enclosure during operation – in any situation, workers should be aware of how to shut down the machine in an emergency.
At BSE UK, we recommend the Axelent X Guard, You can see how it works below:
Lighting – Under PUWER, all employers must ensure that any areas where people use work equipment are suitably and sufficiently lit. Many older style high bay warehouse lights are inefficient, dim, slow to start up and have a short lifespan.
LED lighting is a superior alternative to this type of lighting, requiring fewer bulb changes and reduced maintenance. Additionally, the occupancy detection and zonal control features ensure that operatives always have adequate light when working.
SEMA Approved Pallet Racking Inspections from BSE UK
If you are a warehouse manager, pallet racking inspections can help you stay compliant and prevent system collapses in your warehouse. At BSE UK, we are proud to provide independent  racking inspections across the whole of the UK.
For any information and advice on keeping your racking system compliant, or to book your inspection today – speak to one of our expert team on 0117 955 5211.
Bristol Storage Equipment Limited
Unit 28 Brunel Way,
Cooper Road,
Thornbury, Bristol
BS35 3UP
Sign up to receive our newsletter
By submitting this form you agree to our privacy and data protection policy which governs how we deal with personal data.