Multi Tier Pallet Racking
With Multi-tier Pallet Racking from Dexion, you can create manual pick-lanes for your teams at various levels, by providing walkways built into the pallet racking structure.
An effective storage solution by Using height, Maximising floor space
Multi-Tier pallet Racking allows you to create an effective storage solution by Using height, Maximising floor space. Allowing access to goods over more than one level, by using integral walkways within the Pallet Racking System, along with stairs and safety rails. This type of system is perfect for the storing and picking of goods, especially suited for carton, box and garment storage. The structures can be installed directly from the floor or on a specially designed mezzanine structure, and can be customised to create the best solution for you.
See the benefits of a Multi-Tier Pallet Racking System:
Maximises floor space with the use of height
Provides multiple floors for effective storage
Can be bespoke designed to suit your needs
Removes the need for mezzanine flooring
Can be more economical than a mezzanine floor
Can easily incorporate fire sprinklers and lighting
Can incorporate pallet gates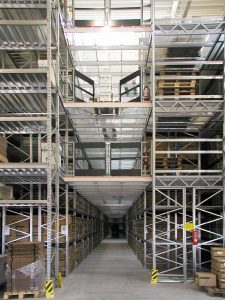 Bristol Storage Equipment Limited
Unit 2 Mead Court,
Cooper Road,
Thornbury,
BS35 3UW
Sign up to receive our newsletter
By submitting this form you agree to our privacy and data protection policy which governs how we deal with personal data.