Say Hello To The New Project Manager At BSE UK - BSE UK
Say Hello To The New Project Manager At BSE UK
Say Hello To The New Project Manager At Bristol Storage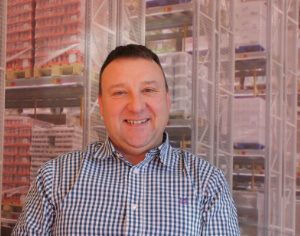 This Month we are Introducing Dave, Project Manager here at BSE UK. Dave joined the Team in January and he's been a vital part of it ever since, Dave is a Health and Safety Expert and has lots of Experience working as a projects manages so we have no doubt that he is the Perfect Fit for our Team. Welcome on board Dave.
What is your Role at BSE UK?
What is your favourite shelving system and why?
Dexion P90 because of the quality and household name.
If you could have unlimited storage of one thing, what would it be?
Red wine, what could be better?
What would be the title of your autobiography?
The hard way to the top.
If you could be in the movie of your choice, what movie would you choose and what character would you play?
Maverick in Top Gun.
What is top of the list when it comes to the weekend?
Socialising with friends or family.
If you could host a talk show, who would be your first guest?
Micky Flanagan, he's a funny guy.
What would be your ultimate holiday destination?
QE2 World Cruise.
If you could only eat one meal for the rest of your life what would it be?
Venison red wine casserole.
If you won the lottery, what is the first thing you would do?
Take my whole family on holiday to consider what to do with the rest of the winnings.
Bristol Storage Equipment Limited
Unit 2 Mead Court,
Cooper Road,
Thornbury,
BS35 3UW
Sign up to receive our newsletter
By submitting this form you agree to our privacy and data protection policy which governs how we deal with personal data.