Carpet Racking Case Study | Carpet Racking UK Supplier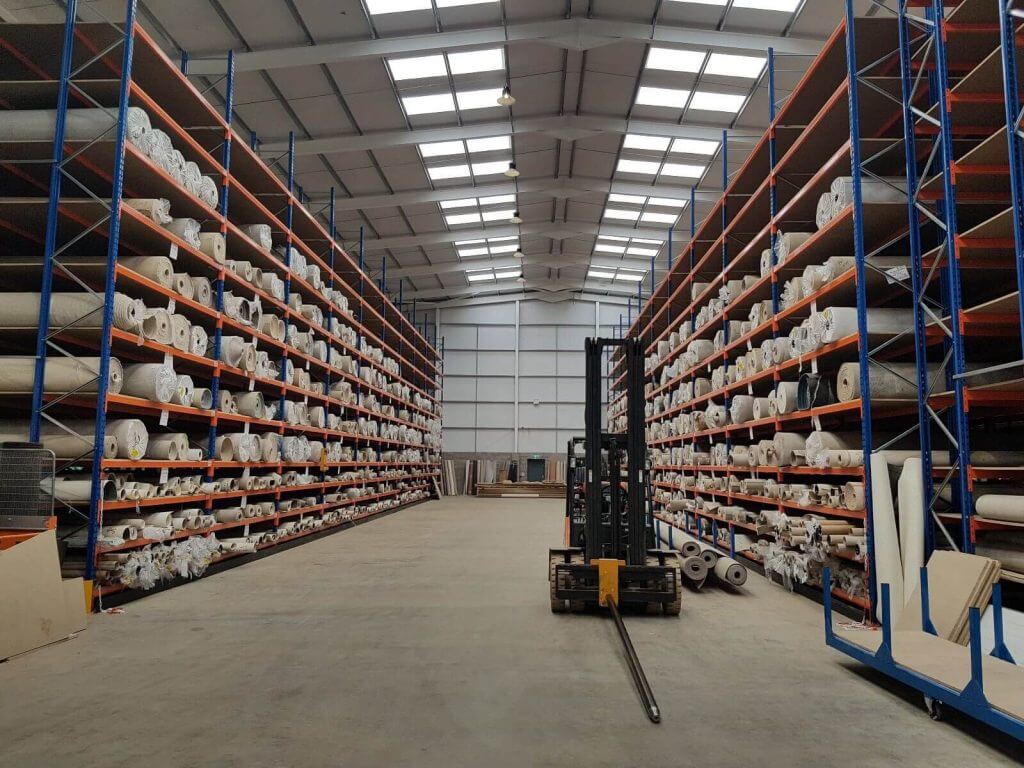 Client:

 Contract Flooring Solutions Ltd
Based in Bromsgrove, Contract Flooring Solutions Ltd are a nationwide flooring supplier and installer, dedicated to providing complete flooring solutions to UK House Builders and Housing Associations.
Location:

 Caerphilly, South Wales


Products:

 Carpet Racking and Pallet Racking
Initial brief
Due to the expansion of Contract Flooring Solutions Ltd to a new purpose built warehouse in Bromsgrove, BSE UK were invited to quote for the supply and installation of a new carpet racking system.
Project Summary:
BSE UK impressed the client enough to win the contract thanks to competitive pricing, personable service and a wealth of experience and knowledge.
Supplying heavy duty carpet racking designed at 9000mm High and up to 5000mm deep, this heavy duty system was capable of storing loads of over 3000Kgs per level. Using the highest quality storage equipment and specialist decking manufactured specifically for use with carpet racks, a total of 8 carpet racks were installed with a total of 46 bays each containing 11 storage levels – that's a lot of carpet!
The client had suffered with rack damage on their old racking system, therefore rack protection was installed and steel buffer rail was laid down in order to protect the bottom beam level from fork lift truck damage.
Heavy Duty Walkway Barrier was also installed around the new office area.
The project was installed in line with strict timescales and BSE UK worked closely with Contract flooring to create an installation schedule that would suit both parties. It was agreed that racks would be handed over in phases to enable Contract Flooring Solutions to vacate the existing warehouse and move carpet over to the new site as the new carpet racks became available.
BSE UK were also on hand to strip down the existing racking from old site, and rebuild it as required at the new site.
Signup to our newsletter below to receive all our latest news!
By submitting this form you agree to our privacy and data protection policy which governs how we deal with personal data.
No Tweets available. Login as Admin to see more details.
BSE UK
1 week ago
BSE UK
4 months ago
BSE UK
4 months ago