AR External Pallet Racking Case Study - Strickland MFG - BSE UK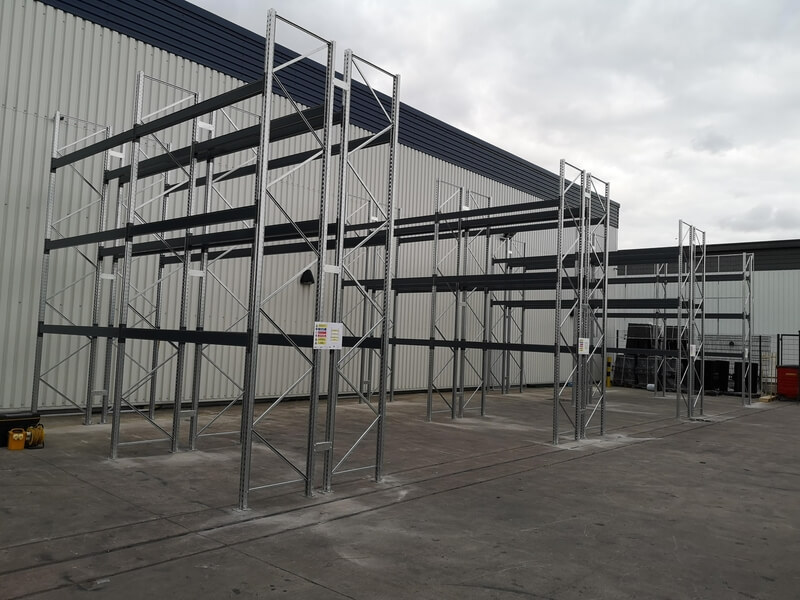 COMPANY
Strickland MFG are Europe's largest supplier of a wide range of parts for earth-moving and demolition/recycling equipment including couplers, excavator buckets, grapples and pulverisers. They offer in-house design and a wide range of off-the-shelf products to their customers.
PROJECT 

BRIEF
To supply and install External Pallet Racking and Anti-Collapse Mesh at Strickland's site in Evesham, Worcestershire.
PRODUCTS USED
Bay Set Up
4500mm h x 900mm d x 2700mm clear entry
3 no. Beam levels per bay
Finish
Beams – Coated for External Use
Frames – Galvanised
Load Data
Beams – 3000kg UDL per level
Frames – 9000kg SWL per bay
Layout Details
1 no. single entry run comprising of 2 bays (overall length approx. 5700mm)
This run to have anti collapse mesh fitted to the rear of the run
3 no. double entry runs comprising of 2 bays (overall length approx. 5700mm)
CUSTOMER COMMENTS
"After being let down by a local company, BSE UK were fast to respond and reliable.
They provided me with a very competitive quote, and the quality of the products is brilliant.
I'm so pleased with the project and will definitely be turning to BSE in the future.''
Nigel Hutchings, Warehouse Manager.

Signup to our newsletter below to receive all our latest news!
By submitting this form you agree to our privacy and data protection policy which governs how we deal with personal data.
No Tweets available. Login as Admin to see more details.
BSE UK
2 days ago
BSE UK
4 days ago
Six trends shaping warehouses of the future
In 2010, many warehouses would still have been regarded as a neglected cost centre. Now, moving into 2020, the warehouse is a carefully managed control centre and very often the strategic hub of e-commerce within an ever-extending supply chain. Exciting as it is to be entering a new decade, the busi...
BSE UK
1 week ago