LED Warehouse Lighting Project In Leicester - BSE UK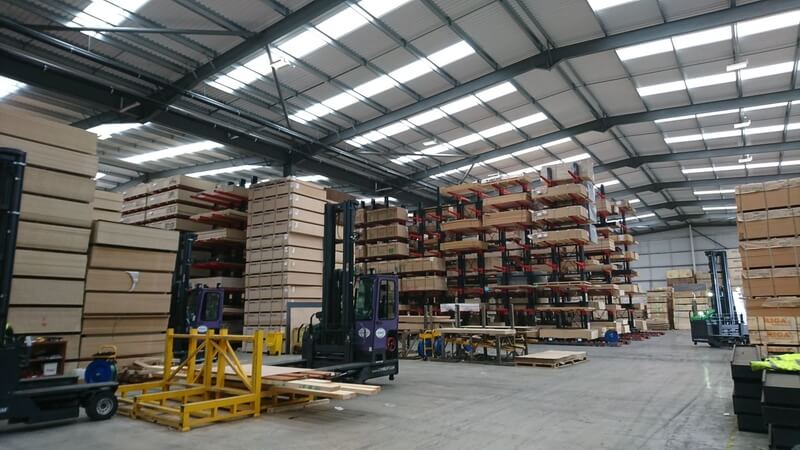 COMPANY

Since the first James Latham began importing hardwoods into Liverpool in 1757, the company has, under the continuing management and direction of the Latham family, developed into a leading importer and distributor of wood-based sheet materials, joinery quality softwood and hardwood and hardwood flooring.
PROJECT BRIEF
Salesperson: George Ives
[email protected]
To supply and fit a new premises with a cost efficient and effective LED warehouse lighting system to a specification provided.
WHAT WE SUGGESTED
We suggested a controlled option that would allow the customer to effectively use their warehouse lighting with features like:
Better safety – fittings able to be set to dim to 10% (for example) when no one is detected after a period of time, then go completely off after a further 15 minutes or so. This avoids fittings regularly going on or off creating a strobe effect.
Further savings – fittings can be grouped so specific areas could always underrun e.g. full output set to 70% (reducing the wattage and pro-longing the life of the fittings) and then dim when no occupancy is detected.
More flexibility – should any areas change use at a later date, instead of re-wiring the fittings you can programme them from the ground to accommodate the change i.e. grouping (info below)
Grouping – the Wi-Fi link allowing grouping means you can link the fittings together without the need for additional wiring. For example if you walk into an aisle and want all the lights within the aisle to turn on you can link the first fitting in the rack to the others, as soon as movement from the first fitting is detected it tells the other fittings to come on. Going back to the previous bullet point (flexibility) all of this can be adjusted/changed from ground level. Access equipment is a thing of the past.
Information – The Wi-Fi link can send back data giving a warehouse manager maximum knowledge over the space i.e. areas which are most/least occupied, savings per area etc.
Daylight harvesting – because each sensor can detect daylight, the fittings can be set to automatically dim and maintain a specified light level depending on the amount of daylight in the building. This maximises energy savings.
PRODUCTS USED
A mix of Phillips 17,000Lm high bay fittings and 25,000Lm high bay fittings were used.
These fittings come with optics directing the light where it is required and come with a 5 year manufacturer's warranty.
Each fitting has its own occupancy sensor but each sensor also detects daylight.
This product is WI-FI controlled offering much more flexibility over the space.
Unlike option 1 these fittings are dimmable and because of the Wi-Fi link you are able to group fittings together.
Signup to our newsletter below to receive all our latest news!
By submitting this form you agree to our privacy and data protection policy which governs how we deal with personal data.
No Tweets available. Login as Admin to see more details.
BSE UK
4 weeks ago
BSE UK
1 month ago
BSE UK
8 months ago