Vertical Racking Systems for a Timber Company - Case Study - BSE
BSE UK recently completed a job for Robbins Timber, a well established timber company providing a range of plywoods, hardwoods, softwoods and associated products.
Their warehouses fulfill orders worldwide and are packed with a range of different products.
Initial Brief:
The objective was to supply, deliver and install a vertical racking solution to keep their timber products stored safely, as well as being better organised for improved stock control and faster, more efficient picking.
Robbins Timber were provided with a detailed schematics drawing with 3 different layout options before the work went ahead: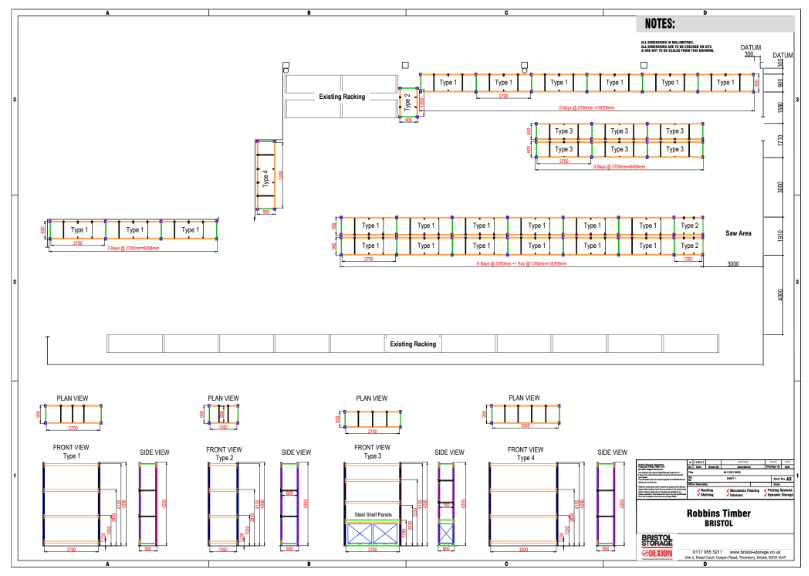 Products Used – Vertical Racking Solution
BSE implemented Dexion vertical storage racking on their site, this type of racking is designed to make use of overhead space and is suitable for tall items. Using this type of racking allowed for the timber to be stored vertically, reducing the risk of damage and consumation of space that comes with horizontal storage.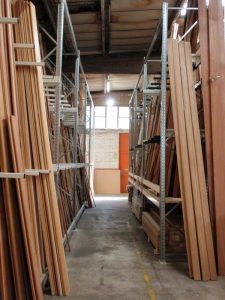 Holding stock of several different types of hard and soft woods, the racking system was fitted with 2 adjustable beam kits pictured below.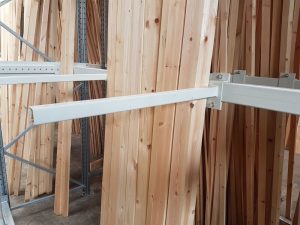 These adjustable beams not only help support the wood to avoid damage from leaning, but also allow for the separation of products to keep them better organised; with plenty of room inbetween the racking for warehouse operatives to pick and deliver items.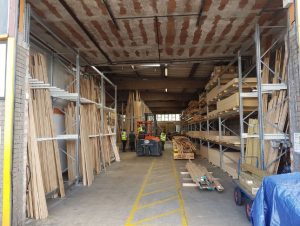 4 different bay types were used throughout the job to ensure that Robbins Timber had adequate storage solutions for the different shapes and sizes of timber that they deal with:
Bay Type 1 – 4200mm high x 2700mm clear entry x 900mm deep – 6 dividers bars over 2 levels.
Bar Type 2 – 4200mm high x 1350mm clear entry x 800m deep – 4 divider bars over 2 levels.
Bar Type 3 – 4200mm high x 2700mm clear entry x 800mm deep – 6 divider bars over 2 levels. The storage level for bay type 3 was set at 1280mm and fitted with steel decking panels to allow for storage space underneath.
Bay Type 4 – 4200mm high x 3300mm clear entry x 900mm deep – 8 divider bars over 2 levels.
Feedback From Robbins Timber
"Dealing with vast amounts of timber on a regular basis, it was important that we had the correct and most efficient storage solutions in place."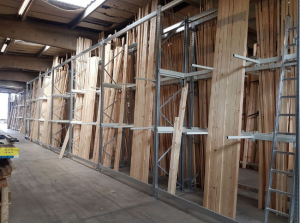 "After listening to our initial requirements, 
BSE UK recommended a vertical racking system fitted with adjustable beams to support the timber."
"The job was done professionally and efficiently – BSE kept up informed on what they were 
doing throughout the installation and we were very impressed with how well it was managed from speedy initial quotation to final installation."
"I would have no hesitation in recommending BSE UK."
Ben Bagnall - Robbins Timber
Talk To The Experts
Another happy client for BSE UK – Robbins Timber can now rest assured that their timber is stored as efficiently as possible, maximising space in their warehouse.
If you have any questions regarding vertical racking systems or are looking for a reliable storage expert to help you with your next project, give one of our expert team a call on 0117 955 5211.
Signup to our newsletter below to receive all our latest news!
By submitting this form you agree to our privacy and data protection policy which governs how we deal with personal data.
No Tweets available. Login as Admin to see more details.
BSE UK
1 week ago
BSE UK
4 months ago
BSE UK
4 months ago