Shed Shelving Customer Case Study | Affordable Shelving Range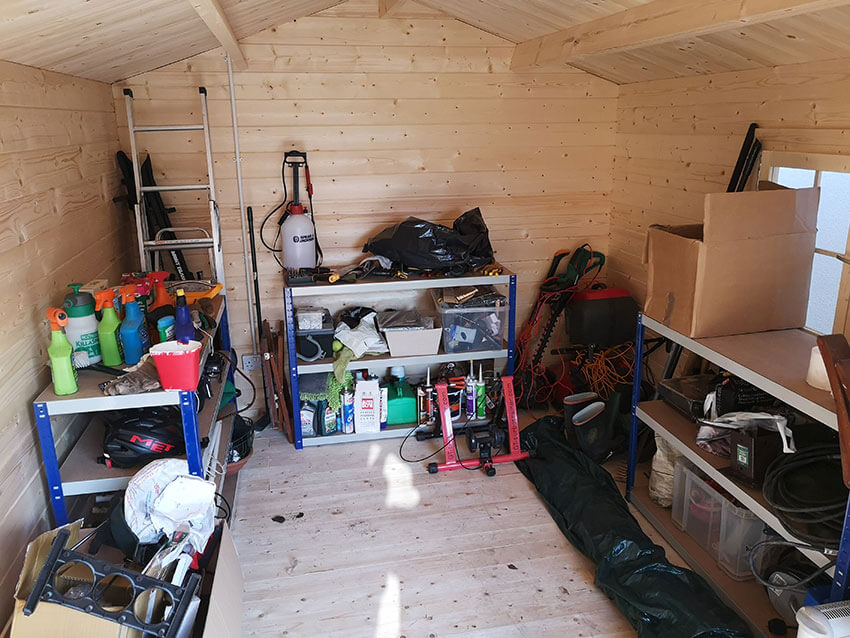 Introduction 
In these challenging times, many homeowners have found themselves with more time on their hands to carry out tasks around the house. One job which appears to be top of the agenda is de-cluttering and organising garages and exterior buildings.
As a result, we've seen a huge increase in demand for our range of shelving which is ideal for storerooms, garages and sheds. One of our recent customers was so happy with his recent order that he wrote in to let us know. Read the full story below!
How Our Shed Shelving Helped - In The Customers Own Words
Our new storage cabin was installed recently and our gear was just slung across its floor which wasn't ideal (nor part of the overall plan for tidying up).
I'd visited B & Q in February and felt their offerings for shed shelves were too flimsy for the price so I then looked at Big Dug online. I loved their extremely competitive headline pricing but unhappy it was only available on orders of 250+ shelves;  for orders of 5 or less they seemed very expensive which put me off.
I carried on searching for shed shelving online and eventually found a local Bristol shelving company offering competitive prices, BSE based in Thornbury, and gave them a quick call.
I first spoke to Molly who was very helpful, but she felt I would be better talking to George, who has years of experience in the industry and would be able to source me exactly the right shelving. Good as her word, George took the time to listen to my needs and provide me with exactly what I wanted. He explained that garage shelving would do the trick and that he had stock available.
With the Covid-19 issue he explained there might be a slight delay in delivery but kept me posted throughout. I didn't have to call to chase, they seemed to anticipate when I might need to know more and would call or email in a timely fashion.
A week later, the shelving was delivered to my home on a non-contact basis and George sent me a quick text to say the courier had let him know he'd made the delivery. I found the packages placed considerately behind my fence, out of sight from the road I live on. Each pack weighs in at 25kg, these are heavyweight shelves so maybe if you're not used to lifting then I'd say ask someone to help you to get them indoors.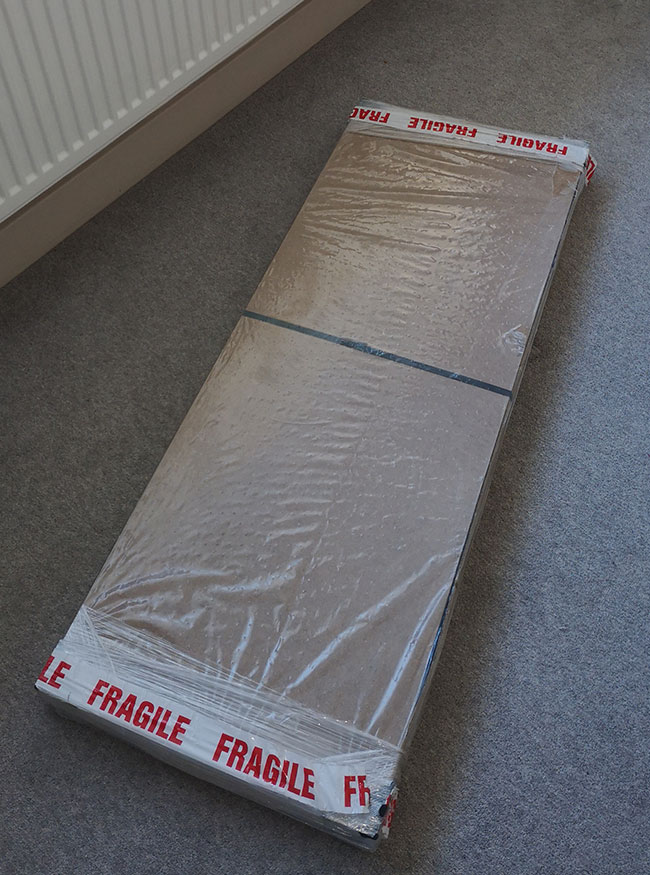 I didn't rush to be honest – my DIY and assembly skills aren't great so I let the packs sit in the spare room for a few days whilst I built up the confidence to get on with it. George had promised it would be really easy to put the shelving together, but I wasn't entirely sure as previously I've sat there cursing the likes of flat pack furniture maker. But turns out I was wrong.
After removing the packaging I found the instructions and went through the parts to ensure nothing had been missed. All satisfied, I then reviewed the instructions which were mostly clear, there were a couple of things I think could have been highlighted better - feet for the shelves is easily missed - but the illustrations were simple enough to follow.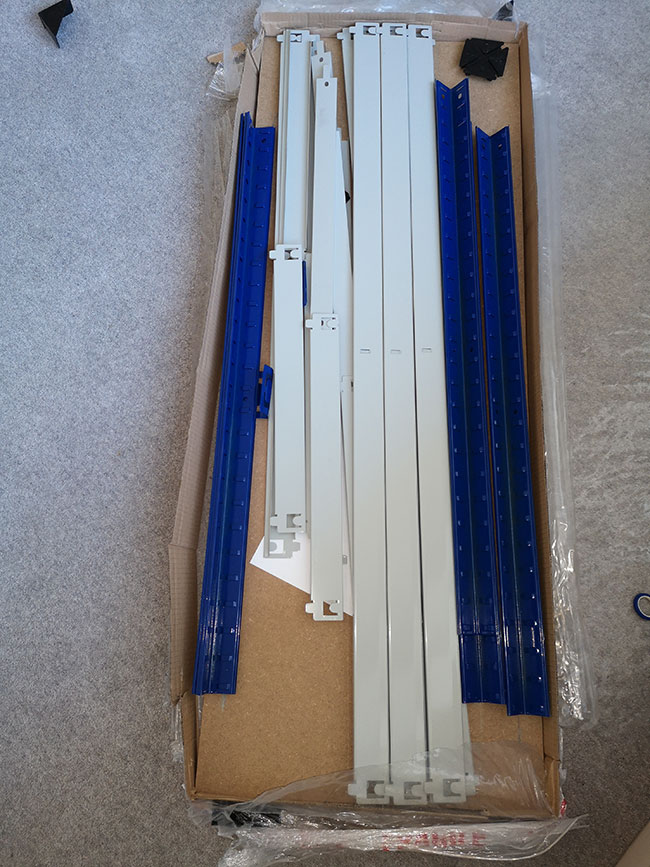 Do make sure you have a rubber mallet as you will need to knock metal pieces together to create the frame. I couldn't find my mallet so used the rubber end of a screwdriver. Worked well enough but I'd strongly suggest you don't use a hammer, it'll damage the metal frame if you do.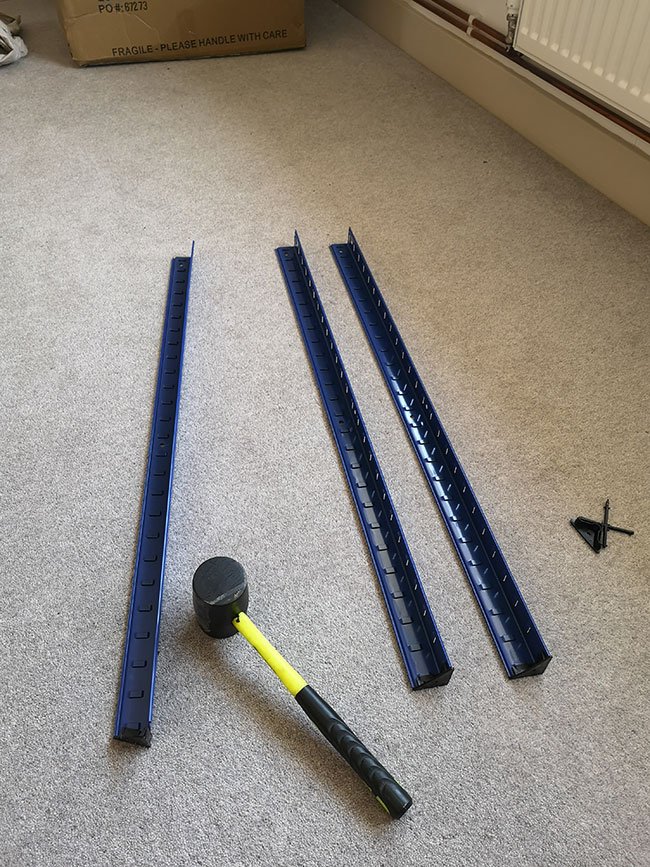 Some of the slots are quite tight fitting and the tabs that went in needed slightly bending to ensure a seamless fit. The metal tabs are flexible enough to gently bend into place with some heavy finger pressure where needed. It only happened a few times, most hammered home quite happily. All the metal frames are powder coated in blue and grey to a high standard.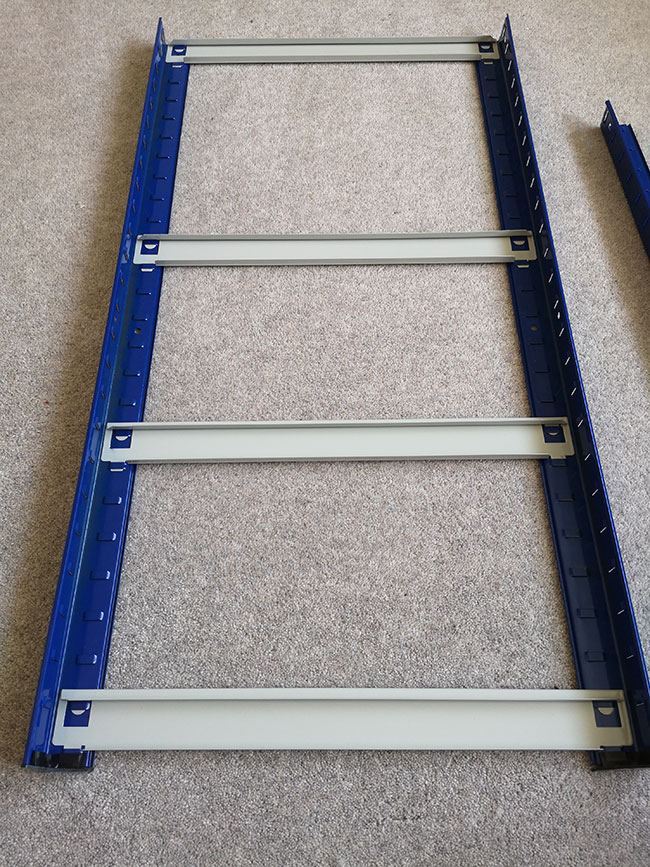 Do follow the instructions exactly otherwise doing it another way can make things more difficult when you start to put things together further down the line.
I managed to put all the shelves together on my own, just be careful you don't allow beams to sway about too much, even if it's only to prevent the tabs from bending!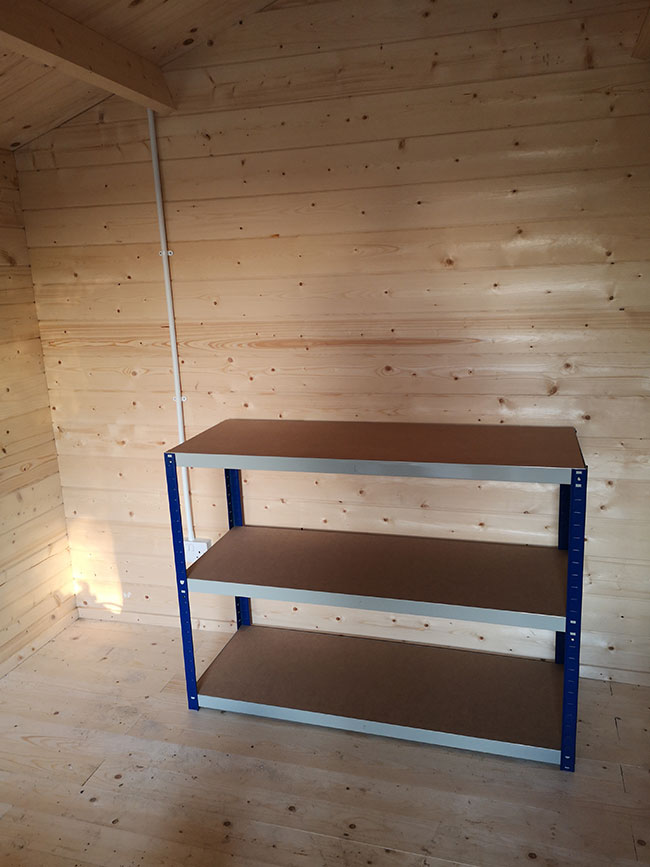 In no time at all I had the metal frames together. As there wasn't much room in the cabin and the weather was wet outside I had decided to construct the shelves in a downstairs spare room. The actual shelves themselves are made from solid mdf so are quite heavy. My wife and I moved each frame to the cabin and then I lifted each shelf into place. All fitted really well and it was good to see how solid each set of shelves was. I didn't make them too high, instead I split them into lower shelving as I didn't want to have them risk tipping over on my children.
Shelving For Garages, Sheds and Storerooms
At BSE UK, we stock a wide range of affordable shelving which is ideal for use in the home. For more information, visit our online shop and see our full range.
Signup to our newsletter below to receive all our latest news!
By submitting this form you agree to our privacy and data protection policy which governs how we deal with personal data.
[fts_twitter twitter_name=rackingshelving tweets_count=6 twitter_height=250px cover_photo=yes stats_bar=yes show_retweets=no show_replies=no]
[fts_facebook type=page id=187959697928972 posts=3 height=300px posts_displayed=page_and_others]