Mezzanine Flooring System Case Study - Natures Menu - BSE UK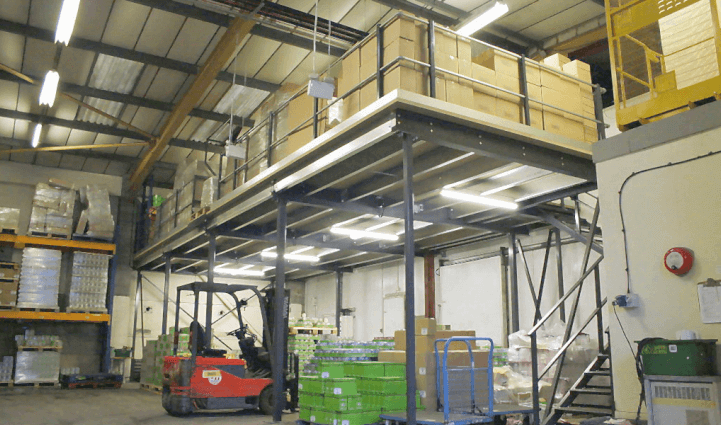 Company
Natures Menu started as a small family business in 1981 selling a range of simple minced meats to specialist breeders and some local pet stores, they have been flying the flag for raw and natural nutrition from day one. 
Project brief
Natures Menu contacted BSE UK to provide a competitive quotation to fit a mezzanine floor in their existing warehouse. This was to allow them to gain more storage for their busy warehouse. Matt Smart at Natures Menu in Bristol, wanted to deal with BSE UK as he had dealt with us in the past and has a good relationship with Rob, our Sales Manager.
What we suggested
A Mezzanine Floor to cover a floor area of 74.25m². All of our Mezzanine Floors are CE marked which means all of our steel work complies with the legal standards. We offer fire protection when recommended by building control for floors used for any other use then storage or if the floor exceeds the size of 400m.
Products used
1 Mezzanine floor with a specification of:
Design Load: 7.20kN/m²
Deflection: L/200
Length of Floor: 5.49m
Width of Floor: 13.52m
Total Floor area: 74.25m²
Underside Height: 3003mm
Deck Height: 3350mm
Grid Layout: 3933mmX2200mm Bays
Staircase: 1 external Utility Staircase, with a mid-landing
Handrail/Kick Plate: 20m Additional items of
1 up ad over pallet gate - 1 pallet load plate
Signup to our newsletter below to receive all our latest news!
By submitting this form you agree to our privacy and data protection policy which governs how we deal with personal data.
No Tweets available. Login as Admin to see more details.
BSE UK
4 weeks ago
BSE UK
1 month ago
BSE UK
8 months ago