Prevent a Mezzanine Horror Story in Your Warehouse - BSE UK
Avoid Warehouse Mezzanine Horror Stories
Avoid Warehouse Mezzanine Horror Stories

Pumpkins, witches, ghostly ghouls and all things that scare the living daylights out of us. Love it or hate it, Halloween is looming and as children and adults look forward to dressing up and giving their neighbours a fright night, we thought we'd take a look at the story of Halloween and where it all started.
We've also come across a recent article detailing the potential horror that can occur in the workplace, not just at Halloween, but all year round. Therefore we thought it best to help you avoid living your own horror stories with a few safety guidelines in regards to Mezzanine Flooring.
Trick or Treat

Most Halloween traditions are thought to hark back to the ancient Celtic day of the dead and there is a history or story behind many of the mysterious customs we take part in.
Perhaps the most popular aspect of Halloween is dressing up and going door to door to 'trick or treat'. This practice can be traced right back to the first few centuries of the Christian era. It was thought that the souls of the dead were roaming around along with ghosts, witches and demons, so people left out food and drink to placate them. Centuries later, people began dressing like these scary creatures, performing tricks in return for food and drink.
And what about carving pumpkins and bobbing for apples? Even this seems to have come from Samhain, which is a very important date in the Pagan calendar, marking the Feast of the Dead.
But it's not just the tradition of Halloween that conjures up some scary stories. We've heard some terrifying tales from our own industry.
How to Avoid a Mezzanine Horror Story

Mezzanine flooring solutions are becoming increasingly popular. It's a quick and cost effective way for businesses to increase their retail, warehouse, production or office space without the upheaval of moving locations or embarking on a substantial building programme.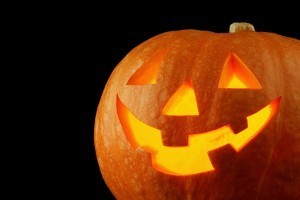 Here at BSE UK we've been designing and erecting mezzanine floors for a wide range of commercial uses for many years. Each one is an individually tailored design which takes into account our clients' precise requirements as well as on-site conditions, building regulations, safety and access.
However, not all mezzanines are built and maintained to our exacting standards. In fact some of them are real horrors.
Could You Be Fined?
According to one report, a tissue manufacturer was fined £10,000 after a worker fell through a mezzanine floor, six meters above the ground. The accident happened as the 39 year old man was helping to hose down machinery during a two-week shutdown at the factory where he worked.
Luckily, the man managed to cling to the hole he had fallen through and pull himself back up. Although he suffered bruising to his arms, chest and jaw, it could have been so much worse if he'd fallen onto the concrete floor below.
Following a safety at work investigation, the Health & Safety Executive found that the accident happened because a metal grating gave way as the man walked across the mezzanine floor. The company was liable because they didn't have a suitable inspection and maintenance regime in place – despite it being in a humid area and susceptible to rust.
Thankfully, we can get to sleep at night without worrying about nightmares like this because all of our mezzanines are constructed from lightweight steel, with edge protection systems and moisture resistant decking as standard. We also supply mezzanine staircases and pallet gates designed with your employees' safety in mind. In fact we're one of only 20 companies nationwide to be given the SEMA seal of approval.
High standards
So here at BSE UK, we do all we can to ensure the highest levels of safety but there is also plenty that employers can do to ensure a safe working environment for their employees who work at height – indeed, many of these are a legal requirement.
Handrails 
All employers must ensure that handrails (top and mid rail) are installed as well as a toe board around mezzanine floors where people are working or need to access as part of their work. Similarly, these need to be provided on storage areas above offices which employees need to access.
All employers must ensure mezzanine floors are regularly inspected and properly maintained.
Controlling the Risk of Working at Height
All employers have a responsibility to identify, assess and properly control the risks of working at height. All work at height must be properly planned and organised. Employees working at height must be properly trained and competent.
The risks from working at height must be regularly assessed and appropriate work equipment provided. The risks from fragile surfaces need to be properly controlled. All equipment must be properly inspected and maintained.
If you're an employer, it's your responsibility to consider if your employees are at risk from working at height and if necessary, put steps in place to manage these risks. After all, everyone deserves a safe working environment.
Get In Touch

We hope you all have fun this Halloween. If you're thinking about maximising your space by installing a mezzanine floor, avoid any of the horrors by letting us handle everything for you. Just give us a call on 01179 555 211 and have a chat with our experienced and knowledgeable team.
Bristol Storage Equipment Limited
Unit 28 Brunel Way,
Cooper Road,
Thornbury,
BS35 3UP
Sign up to receive our newsletter
By submitting this form you agree to our privacy and data protection policy which governs how we deal with personal data.