Are Drones The Future of Warehouse Operations?
Are Drones The Future of Warehouse Operations?
Are Drones The Future of Warehouse Operations?

Drones – The Future of Warehouse Logistics?
Are you a business owner or warehouse manager? If so, we're certain you've asked yourself plenty of times how you could improve business operat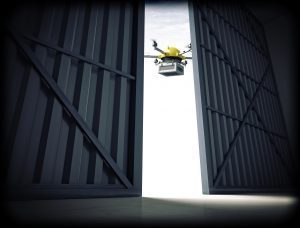 ions and logistics.
From encouraging further staff training to improved inventory management there are plenty of possible answers. But have you considered that the future of warehouse logistics could be in the hands of robots? Well, drones to be more exact.
As technology continues to progress and move towards automation and step further away from human interaction it is a very real possibility that drones may take residence within your property. We've taken a look at the potential benefits to help you make your decision below:
What is a Drone?
Where aviation and space is concerned a drone refers to an unpiloted aircraft with a preprogramed flight path. More recently the term drone has become a household phrase that refers generally to all unmanned robots which are more commonly controlled remotely by its users.
There are a host of uses and variations for drones from military and commercial to domestic purposes. The most common type of machine is an aerial drone where technological advances are allowing us to use them in more creative and useful ways and are particularly popular amongst photographers and videographers.
Attack Drones are used by the military and are equipped with lethal weapons that are used for controlled air strikes.
Crowd Control drones are equipped with non-lethal weapons such as tear-gas and are used to break up large, out-of-control crowds of people from the sky.
Delivery Drones are more in line with what could be used in warehouse and logistic operations in the near future. Originally developed for the military to deliver goods to ground troops they use claw like systems to remotely drop, or indeed gently place, any item.
The Potential to Improve Productivity
Whilst drones are not widely in use at the moment there are undoubtedly a number of benefits to adopting the latest technology to improve levels of productivity:
Reduces material and human resources required to carry out inventories
Information collected by drones can be used in conjunction with most warehouse management systems
Improved stock reliability and the opportunity to check inventory on a more regular and thorough basis
Could They Work in Your Warehouse?
The American FAA (Federal Aviation Agency) has recently begun registering and approving drones for commercial applications. In fact, 300,000 drones were registered within the first month of these changes.
Companies such as DHL and Amazon have been advocating their use for some time. Actually, as we were writing this blog, the news broke that Amazon have been given the go ahead to start exploring drone deliveries in the UK. Working with the British Government and the UK Civil Aviation Authority, the world's biggest online retailer are exploring the process and suggest deliveries could be made as early as 2017.
With this in mind, the future of working with drones is now even more feasible here in the UK.
We found one (out of hundreds of models) that has been designed to specifically look at cycle counting, stock counting, and inventory management. The Eyesee drone is equipped with an on-board camera which allows it to move using a predetermined flight plan to capture pallet data stored in the warehouse. It will even associate the image captured with the warehouse location and automatically translates it into a logistics address within the warehouse.
The Future of Warehouse Operations
Whilst we'll be keeping an eye out for Amazon's delivery drones we'll also be looking into the effectiveness of adopting drones within the warehouse environment itself. But for now, we'll stick to the manual inventory.
Bristol Storage Equipment Limited
Unit 28 Brunel Way,
Cooper Road,
Thornbury, Bristol
BS35 3UP
Sign up to receive our newsletter
By submitting this form you agree to our privacy and data protection policy which governs how we deal with personal data.