Signs that your racking needs replacing - BSE UK
Signs that your racking needs replacing
Signs that your racking needs replacing

A frequent issue that commonly arises in the warehouse is old, unsuitable or simply broken warehouse racking systems.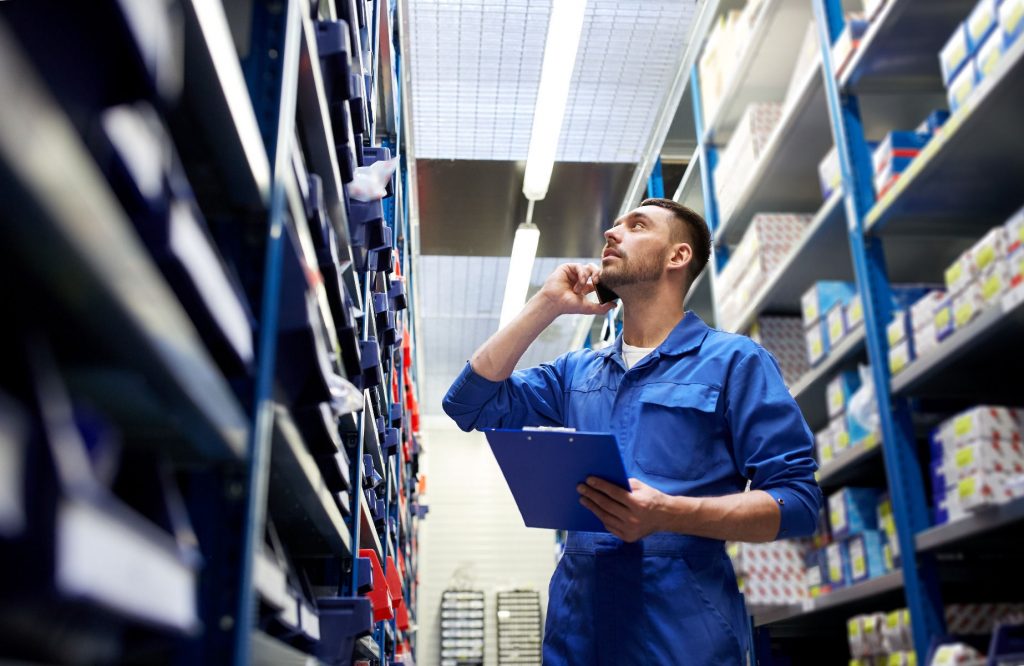 Not only is this insufficient for keeping up productive workflow and much needed organisation, but it poses a huge health and safety risk to all those in the workplace.
Whilst pallet racking is a particularly durable and reliable system with the correct installation and proper maintenance there can be a number of hidden dangers which can go unnoticed. It is therefore essential that you recognise the signs that your racking needs replacing.
Read more below:
Dangers of faulty Pallet racking
Regular inspection of your pallet raking is a legal requirement under UK law that requires an outside examination to be undertaken annually. At BSE UK we recommend an Annual Pallet Racking Health Check to ensure that all of your health and safety regulations are met.
However, don't be fooled into foregoing your own regular inspection and maintenance. You'll only end up with higher repair costs and the increased risk of potential damage to both your inventory and your staff.
1. Racking Repairs
General maintenance is healthy for your racking system, but constant fixes are a red light that you should be thinking of more long term solutions.
Whether an issue of overloading, wear or tear, or something worse, constant repairs are putting your employees in danger or risk of injury. Whilst you might consider yourself quite the "DIY'er" or even employ a fully qualified maintenance person a system consisting of a host of repairs is not a solid and acceptable solution.
A constantly faulty racking system can be a sign of a larger underlying problem such as bad design or overloading. Not only are your workers at danger of injuring themselves, but your racking and the stock placed on them are at risk of collapsing.
Another danger factor to making too many repairs is that your repairs themselves may be faulty. Instead the safest bet is to invest in some new racking suitable for the job which will not only save you the effort, but the time and money also.
2. Beam Deflection
Naturally, your beams will slightly deflect under a heavy load, however this should disappear as soon as your take the load off. If the beam stays deflected after removing the stock, then it is damaged.
Reloading your racking system with more stock after seeing this is then continuing to put your racking system in danger of collapsing and your workers in a hazardous position due to the risk of falling stock. Weight limits should be obeyed and the load should be supported by enough arms to prevent deflection.
If you notice a deflection in your pallet racking, you need to get a new beam or invest in a more appropriate racking system that can hold the mass of what you are storing.
You can use this calculation to see if your beams need replacing.
3. Rust and Corrosion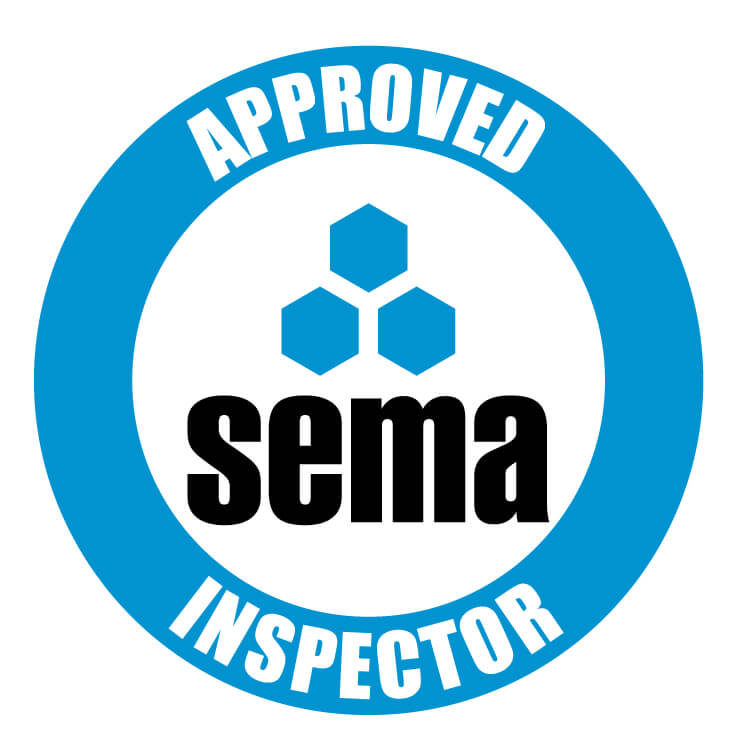 SEMA approved distributor logo Checking for rust and corrosion on your warehouse racking should be a standard job during your pallet inspection. Note any area's with flaking paint, tarnished beams or corrosion as this is an indicator of the metal weakening.
For obvious reasons, your racking should not be weakened by rust. Even if you are abiding by the weight allowance of the racking, the frames will not be able to hold the original amount of weight if the metal is weakened. The mass of your storage may be too much for the weakened racking which could result in a collapse.
Unfortunately, there is no way to fix this and ignoring it is not going to make the situation any better. In such a case, Pallet Racking replacement is the most sensible solution.
4. Racking Protection
There is no way to fully protect your racking against inevitable damage and faulty components, but you can make sure this is less likely to happen with rack protection for warehouses.
Prevent your racking from damage against forklift damage with added security including column guards, up right protectors and racking barriers.
Tubular Barriers offer strong protection at the ends of pallet racking to not only protect against vehicle damage, but are also perfect for creating separate stores areas and limiting vehicle access.
Dexion Corner Guards can wrap around the pallet racking to protect against any kind of collision damage on the corner uprights. These also come with fixing bolts to make sure it won't be moving anywhere.
Safety Guidelines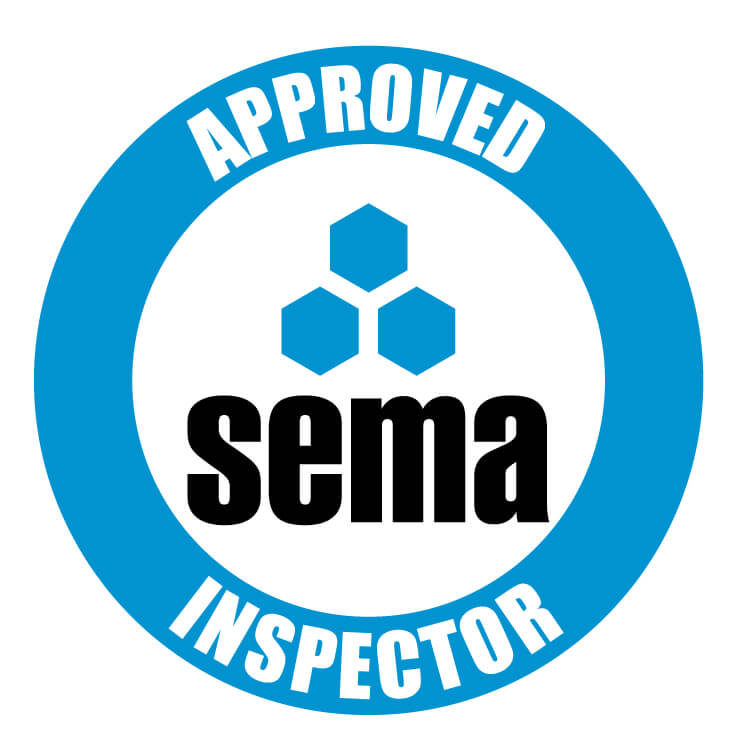 At BSE UK, we repair all damages to SEMA (Storage Equipment Manufacturers Association) guidelines which has been set as national and European standard for storage equipment.
You must be using these tips along with other guidelines to make sure your installation of racking, shelving and other forms of storage cohere to the guidelines.
Need Some Expert Help?
Whether you're giving your pallet a full inspection, or you're noticing as and when it happens, faults with racking should not be ignored. Make sure you're regularly taking care of your warehouse and the contents within it.
With over 50 years of experience with pallet racking, we are here to help you in any way we can. If you need helping finding what's best for your warehouse or want to find some racking that you can rely on, give us a call on 0117 955 5211 to speak to a member of our team.
Bristol Storage Equipment Limited
Unit 28 Brunel Way,
Cooper Road,
Thornbury,
BS35 3UP
Sign up to receive our newsletter
By submitting this form you agree to our privacy and data protection policy which governs how we deal with personal data.