Top 10 Tips To Increase Warehouse Security - BSE UK
Top 10 Tips To Increase Warehouse Security
Top 10 Tips To Increase Warehouse Security

How secure is your warehouse?
Security is something that we all need to take seriously. Our warehouses are full of valuable stock and for some people it's all too tempting to just help themselves. The sad fact is, it's not just professional thieves we have to watch out for - delivery drivers and even our own staff may try to get away with taking the odd item, convinced it will never be noticed.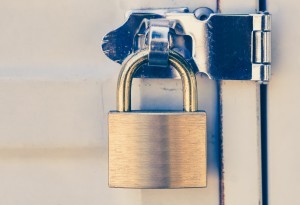 It may not seem like a big deal but a recent report by the Centre for Retail Research showed that employee theft and fraud costs UK retailers £1,681m and that supplier/warehouse fraud alone, accounts for a staggering £246m worth of losses.
Amazon's approach
This global company has been hit hard by employee fraud. With a high turnover of staff and warehouses stuffed full of small items that are all too easy to conceal, they've suffered big losses. In an attempt to curb the rise of theft from insiders, they put up flatscreen TVs showcasing real stories of staff who committed 'on the job' theft and giving details of what they'd stolen and how they'd been caught. The actual members of staff weren't named but instead were represented by a blacked out silhouette stamped with the word 'terminated'. It may seem like a drastic measure but if nothing else, it serves as a very real warning to current staff that they're being watched and theft will not be tolerated.
From hero to zero
Don't think it's impossible to protect yourself from falling prey to the thieves. There have been some great security success stories. One UK company invested over £1 million in security measures in a bid to attract new occupants to its industrial warehouse units on a Yorkshire business park. Using a mix of CCTV cameras, security lighting, new fencing, roaming security guards and also the establishment of an estate management committee, they've managed to create a safe and welcoming community for a wide range of businesses. As a result, the crime rate is now officially zero and they're attracting even more companies.
Increase your security
Here are some simple steps you can take to ensure your warehouse is secure and your losses are kept to a minimum. Even better, they're easy to achieve and won't call for a million pound investment:
Data security – make sure that only authorised people have access to your warehouse management systems and that they're strongly protected with passwords. That way you can keep track of who's updating the information about stock levels, goods received or goods dispatched.
Staff checks – unfortunately, not all staff are honest and trustworthy. Before you employ anyone, make sure you carry out stringent background checks and think carefully about which areas you give staff access to. You might also be able to improve security by setting a 'two person rule' for entering locked cages or locked pallet racking areas.
Staff identification – especially in large organisations, it can be hard to identify members of staff from visitors or delivery drivers. If this is a problem in your company, equip your team with uniforms or name badges so they're instantly recognisable.
Mirrors - convex mirrors are already used in many warehouses for safety but they can also be a security asset. By placing them in blind spots or areas that are out of view, they make it harder for any fraudulent activity to take place.
Visitors – make sure that all visitors sign in so you know who is on the premises and don't let people from outside your organisation roam freely. To combat this, some companies set up a separate area for drivers where they can wait in comfort while their vehicles are being loaded.
Entry points – ensure all doors and windows are secure and locked when not in use. If possible, use pass keys or electronic tags so only authorised personnel can gain access to your warehouse. Many systems will even show you who's entered and at what time.
Warehouse layout – you can help keep your warehouse secure just by thinking about where everything is positioned. Your shipping or docking areas are the most vulnerable so try to site the manager's office so it has a clear view of the main doors. If possible, fence off outside areas and restrict the vehicles that can gain access to the loading bay – including staff vehicles.
Security cameras – even if they're not monitored 24/7, cameras are a huge boost to your security. They act as a strong deterrent to staff or outsiders who may be tempted to steal from you and if a crime is committed, they will help the police catch the culprits and recover your goods.
Security alarms – again these are a really good deterrent. If your warehouse is in an area where an alarm won't be heard if it goes off at night, they can directly alert the police if anyone tries to gain access to your premises.
Security guard – although this is a more costly option, there really is no substitute for having a live presence in the form of on-site security. Criminals are unlikely to try to break into your premises if they know they're protected around the clock.
Get In Touch
No matter how secure we think our warehouses are, it's always worth a little reminder to review what we're doing and see if we can make any improvements. If you're also concerned about safety, you can talk to us about pallet racking, repairs and maintenance or SEMA inspections. Just give us a call on 01179 555 211 and one of our experienced and knowledgeable team will be happy to help you.
Bristol Storage Equipment Limited
Unit 2 Mead Court,
Cooper Road,
Thornbury,
BS35 3UW
Sign up to receive our newsletter
By submitting this form you agree to our privacy and data protection policy which governs how we deal with personal data.