Is Your Warehouse Ready for Christmas? - BSE UK
Is Your Warehouse Ready for Christmas?
Is Your Warehouse Ready for Christmas?
Our Top Tips to Coping With Christmas in the Warehouse
"It's beginning to look a lot like Christmas, Warehouse workers dressed as Santa
Everywhere you go,
Take a look at the pallet racking, all that stock looks cracking,
with candy canes and silver lanes that glow.
"It's beginning to look a lot like Christmas,
Inventory in every store,
But the prettiest sight to see are the forklifts that will be,
on your own Warehouse floor."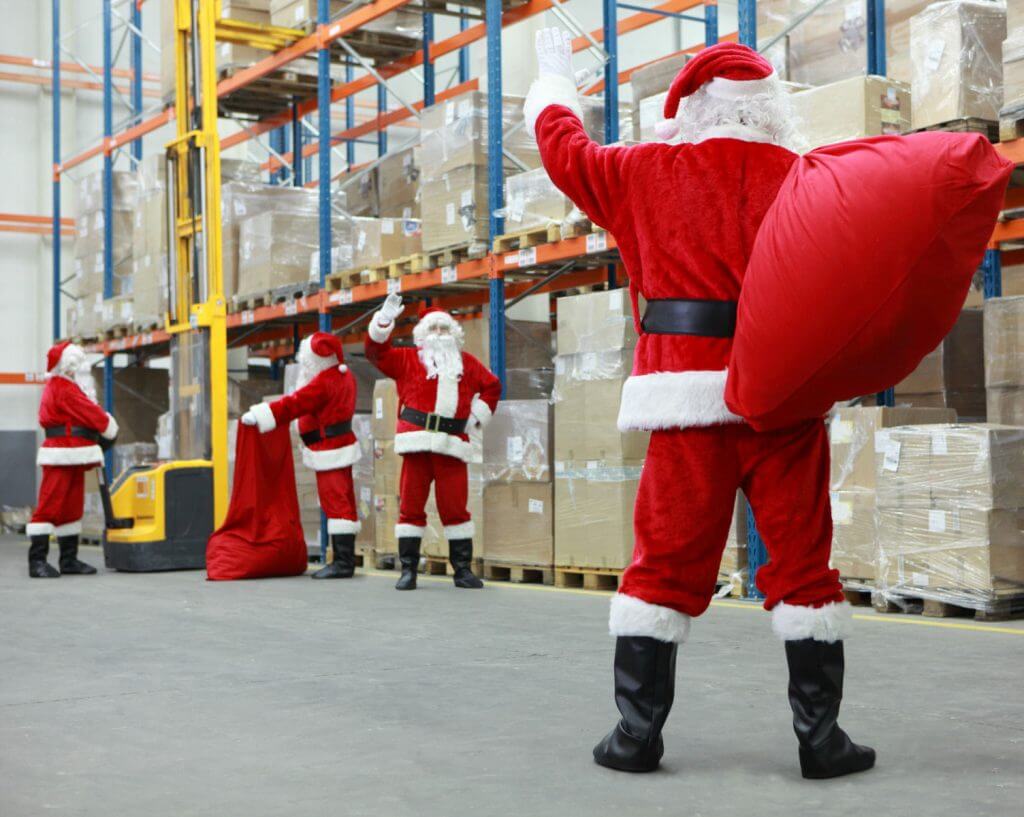 Okay, so our version isn't as catchy as the original but it certainly rings some truths. Christmas can be a logistical nightmare in many warehouses across the country. But that doesn't have to be the case.
The Busiest Time of Year
You don't need us to tell you that statistically Christmas is the busiest time of year for businesses across the country.
As such, all areas of business need to be running as efficiently and effectively as possible to reduce costs, generate more sales, increase revenue, and of course help you keep your sanity. This month we've decided to focus on the best ways to make sure your warehouse is organised to ensure minimal stress, maximum profits, and increased safety for all of your employees.
Review Sales Data
To ensure proper and correct stock replacement you should undertake a review of sales data from previous years. This will give you the necessary insight into stock popularity and thus make the decisions to avoid stock shortage and as such increase efficiency.
Maximise All Available Space
Consider taking advantage of the vertical space around you in preparation for additional stock and inventory with improved Pallet Racking systems. In addition you might find that your space would benefit from being divided up and zoned into separate areas with the simple addition of steel partitions.
This is also a great chance for you to organise your warehouse; optimising its layout before peak season. Think about improving picking and enhance packing & distribution to ensure smooth sailing this December.
Evaluate Warehouse Equipment
What would be worse than your systems going down or warehouse equipment failing on potentially the busiest day of the year?
The law currently requires that all equipment such as fork lift trucks, conveyor belts, racking, and ladders for example are suitable for intended use. Maintained to a safe condition and inspected on a regular basis are further expectations of you as an employer.
Not only will such inspections ensure your warehouse remains efficient during your busiest period but will ensure on-going success for your Health and Safety efforts.
Asses Your Employee Needs
Companies across the globe take on additional staff during the Christmas period due to increased demand. To avoid any possible hold ups due to short staffing you'll need to enlist the help of a recruitment agency in advance to ensure your temporary employees.
Ensure that all staff, whether full or part-time temps, are given the basic in Health and Safety training that is specific to the hazards associated with their work and the environment in which they reside.
Signage
One of the easiest and quickest ways of communicating with and reminding your employees is through the display of signs. In line with Health and Safety compliance they should be in place all year round anyway. In fact, the Occupational Safety and Health Administration (OSHA) requires by law that you have proper signage across your premises to protect employees, customers, and inventory.
However, we suggest that you revisit your warehouse and ensure that they are all in place, legible, and clearly visible amongst undoubtedly additional amounts of stock.
Whether you're looking to warn people about potential dangers, encourage a clean and safe workplace, assert mandatory instructions, or indicate the location of emergency exits, we stock a range of Labelling and Identification signs ideal for your warehouse.
Software
In order to compete with larger companies you should already be utilising software and warehouse management systems to streamline your work.
Mismanaged inventories can cause significant financial problems so take advantage of the ability to track inventory, act on orders, and monitor the warehouse and your staff.
Need a bit more advice? Check out our Top Tips to Improve your Warehouse Inventory Management for more help.
Let Us Help
Whilst the above list is no means exhaustive, and you might have your own ideas brewing, it is a great place to start to ensure your warehouse continues to run smoothly throughout the Christmas period.
So whether you're looking for pallet racking or shelving to improve inventory storage or are in need of an inspection or repair service before the Christmas rush, BSE UK can help. Just give us a call on 01179 555 211 for more information and advice.
Bristol Storage Equipment Limited
Unit 2 Mead Court,
Cooper Road,
Thornbury,
BS35 3UW
Sign up to receive our newsletter
By submitting this form you agree to our privacy and data protection policy which governs how we deal with personal data.