Welcome Christmas to your Warehouse - BSE UK
Welcome Christmas to your Warehouse
Welcome Christmas to your Warehouse

We've tried as hard as possible to avoid the premature festivities which were seemingly everywhere from the start of September.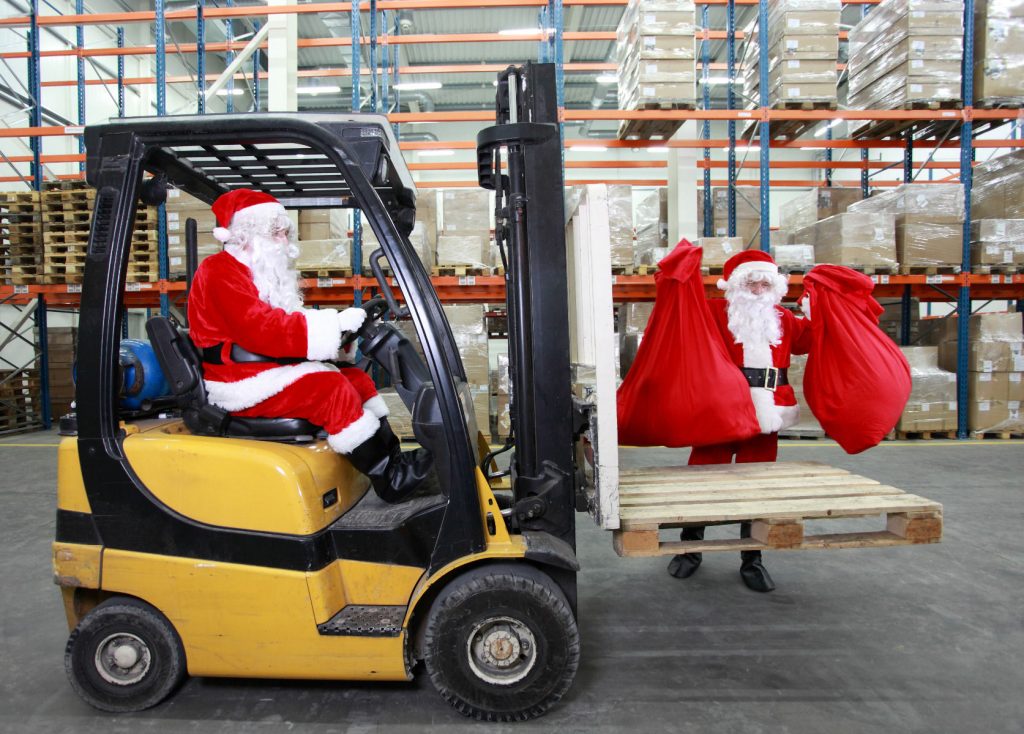 But with Christmas only a matter of weeks away it's hard to avoid. And quite honestly we no longer want to.
Other than spending time with family and friends, gift giving, and eating our body weight in cheese, it's great to have a break from work. But in the run up to the big day, do you make an effort at work or is it just business as usual?
Getting Into the Spirit
When everyone has worked hard all year round it could be particularly beneficial and help boost morale to let your staff have a bit of fun. It doesn't have to be time consuming or costly, but just give them the ability to inject a bit of the old Christmas magic in to your warehouse.
Christmas Jumper

What better way to ease yourself in than with encouraging your staff to get involved with Christmas Jumper Day?
Taking place this year on Friday 16th December we say the uglier the better. Go into any high-street store and pick one off the rails or get creative and make your own. Whether you opt for a Santa stuck in a chimney, Rudolph with a light up nose, or a collection of tinsel and baubles it's a great way to get everyone involved.
And just think about the fantastic team photo opportunity.
Secret Santa

What work celebration is complete without Secret Santa?
It might be a little difficult to buy for your workmates or even your boss but doing so is another great idea to get your team communicating with people they may not otherwise have. Ensure you agree on an amount to be spent prior to drawing your names and for goodness sake try and actually keep it a secret.
Remember, the first rule of Secret Santa; you don't talk about Secret Santa.
We'd suggest you'd try and opt for a gift that is more amusing than sentimental. It's a safer bet and will allow you a much bigger scope on choice. When it's time for the exchange try and pretend to like your own gift and not blurt out "What is this awful thing? Do you actually expect me to put this in my house"; chances are your Secret Santa was a little stuck for ideas too.
If you want to mix up the gift giving this year then why not take a more interesting spin on the classic and play what some like to call White Elephant Exchange? It works a little like this: Everyone brings a general gift to the exchange. The first recipient chooses a wrapped gift and opens it. The second recipient can then choose a different wrapped gift or opt to steal the unwrapped gift from the first person. The games continues like this until everyone has an unwrapped gift.
Festive Indulgence

We don't really need an excuse to eat our body weight in Christmas treats. So this one was a no brainer for us.
Whether once a week for a Friday treat, the last day of work, or your Christmas party why not encourage your team to get baking and conjure up a selection of festive dishes? You might suffer in the long run by gaining a few extra pounds but the sugar rush may help that 3 o'clock slump.
Deck the Halls…
…with boughs of Holly, Fa la la la la.
A real one would be nice, but get your hands on a Christmas tree for work and let your staff go wild. Avoid becoming a control freak in a bid to get the perfect looking tree and just allow everyone to get involved. A joint effort is better for morale and spirits than a perfectly decorated tree that was regimentally put together.
You could even stick some tinsel on your mezzanine rails or get creative with paper chains and snowflakes. Neither are expensive but both are really quite effective in emulating the spirit of Christmas.
However, whilst we encourage you to go a little over the top and create your own Winter Wonderland, don't get carried away and forget about your Warehouse Health and Safety measures. Here are a few things you might want to think about:
Lifting – With musculoskeletal injuries accounting for approximately 40% of all sickness absence, injury costs to the NHS are a staggering £1 billion a year. Whilst you should be taking steps to reduce the risk of manual handling injury all year round, it's important not to forget about the process when decorating the warehouse. The Christmas tree is probably a lot heavier than you realise.
Exits and Walkways – At all times, exit signs, load notices, and floor signals should be clearly visible to both employees and visitors. Avoid blocking such signs with any decorative pieces and eliminate potential safety hazards. Equally, bear in mind where you place your tree to avoid the obstruction of walkways.
Unsafe Climbing – It might be easier to grab a chair or stand on the table to hang some Christmas decorations but encourage you employees to avoid doing so. Why? For the simple reason that these objects are not stable enough to support their body weight correctly and safely. Get hold of a step ladder and make ensure that someone has a sturdy hold of it to prevent any falls.
Get In Touch

At BSE UK we're already looking forward to getting into the festive spirit. But if you need talk to us about pallet racking, maintenance or repairs, we'll be here right up until Christmas Eve. So make sure you give us a call on 01179 555 211 and have a chat with one of our experienced team members.
Bristol Storage Equipment Limited
Unit 2 Mead Court,
Cooper Road,
Thornbury,
BS35 3UW
Sign up to receive our newsletter
By submitting this form you agree to our privacy and data protection policy which governs how we deal with personal data.