Xylem - Steel Partition Room Case Study - BSE UK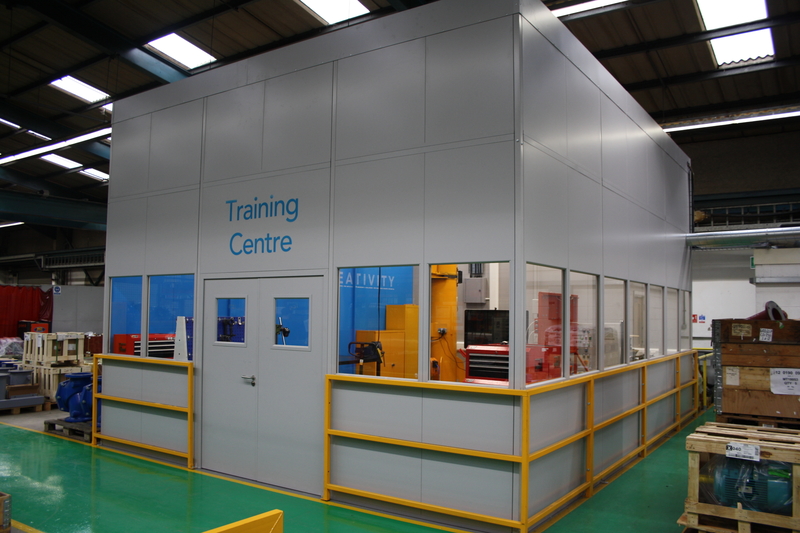 COMPANY

Xylem are a leading water technology company committed to "solving water" by creating innovative and smart technology solutions to meet the world's water, wastewater and energy needs. ​In a world of ever-growing challenges, Xylem delivers innovative water technology solutions throughout the cycle of water.
PROJECT BRIEF
Salesperson: Rob Ives
[email protected]
Xylem asked BES UK to provide a room within their factory to be used as a training centre, the room needs to significantly reduce noise levels of the factory in order to provide a classroom environment. Double doors will need to be fitted to the room for machinery to be moved in and out for training purposes. The room is to be fitted with a ceiling, with LED lights susceptible for a working environment and an air conditioning unit. There will also be various electrical points in the room.
PRODUCTS USED
double skin steel partitioning 4.0m high
1 – Run 5.70m long all solid/glass/solid panels with a double side hung door module 2.0m high x 1.8m wide with vision panels.
1 – Run 7.0m long all solid/glass/solid panels
1 – Run 5.70m long all solid panels
1 – Run 7.0m long all solid panels
Finish: powder coated light grey, sandstone or white
The runs form a 4 sided enclosure with a self-supported white faced fissured minaboard ceiling & insulation quilt over the area
Lighting – On/Off Fittings
· 12 X LED panels to achieve above 500 lux average desk height
· 1 x Pir for on off
· 2 x emergency open area LED fitting
Distribution Board
· Install new 3 phase distribution board to rear wall
· Supply to lighting
· Supply to power
· Supply to 32amp 3phase and Neutral isolator and outlet
· Supply to aircon and ventillation
Air Conditioning Unit
· 5 KW Daikin fully flat Cassette
· Daikin Vam 250 Ventilation heat recovery unit
CUSTOMER COMMENTS
"Having gone to four different companies, BSE UK were the only company who really provided me with what I wanted.
The quality and finish of the room is just what we were looking for and the soundproofing is fantastic.
We have already had BSE UK back to quote for another project."