Improving Warehouse Efficiency: A Checklist - BSE UK
Improving Warehouse Efficiency: A Checklist
Improving Warehouse Efficiency: A Checklist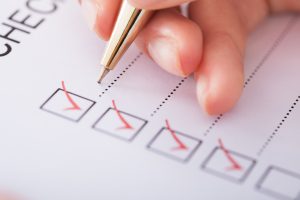 If you and your employees have become accustomed to the strain of working in difficult conditions, it is most certainly time for a change.
Take the time out of your working week and look to improve the efficiency and running of your warehouse. A few simple changes will see happier employees, greater & more reliable health and safety measures, and a potentially enhanced bottom line.
Avoid the perils of an unorganised mess and improve upon your efficiency with a few of our top tips and efficiency checklist below:
Risk Assessment
Identifying the key health and safety priorities within a workplace is fundamental. Not only will improving upon these better protect your employees and their day to day activities but allows you the opportunity to reassess your current processes.
In fact, under The Management of Health & Safety at Work Regulation (1999) the law requires that you have a documented risk assessment in place.
Make sure you comply with these regulations and check these off of your list:
Identify the hazards
Decide who may be harmed and how
Evaluate the risks and decide on
precautions
Record your findings and implement them
Review your risks assessments and update.
Inventory Management
Without effective inventory management in place, the process of efficiently overseeing and controlling the ordering and storage of products is near to non-existent.
As one of your major assets, mismanaged inventories can create significant financial problems such as being presented with a shortage or overflow of stock and a prolonged picking process.
Simplify you inventory management and ensure successful and efficient procedures:
Train every employee in regards to the proper procedures and inventory process
Avoid ordering too much stock with the aid of accurate projections of how much you'll need based on previous seasonal patterns.
Ensure accurate tracking with barcode scanners
Reorganise your floor plan to ensure that the organisation and efficiency of your warehouse runs accordingly
Ensure a procedure is in place when a product is moved from one location to another to prevent loss and reduce processing time
Signage, Labelling, and Barcodes

An obvious point to make for many, but an important one nonetheless is the correct labelling within a warehouse environment. A requirement from the Occupational Safety and Health Administration (OSHA) you'll need to ensure personnel are directed through the warehouse safely as well as improving the ability to find inventory fast and easy.
With its history and worth proved in the retail setting more and more companies are switching over to barcode technology in the warehouse to improve profitability, productivity, and warehouse efficiency. The benefits of doing so are quite significant and include, but are not limited to:
Improving accuracy – Eliminate human errors whilst ensuring you have a complete and accurate picture of your stock levels at any given time.
Speed up operations – Work fast and more efficiently as the picker is guided to the exact location of a product.
Real time information – Store information about items, its measurements, storage conditions and location.
Ease of use – Less paperwork and a higher level of stock information available.
Interested? We've compiled a full blog post discussing the benefits of barcode scanners.
Pallet Racking Protection
What better way to ensure the efficient running of your warehouse than to make certain it isn't falling apart at the seams.
Pallet Racking is an invaluable system to the day to day running of your business and the organisation of your warehouse would collapse without it. Providing a durable and reliable system to store high volume and high density bulk inventory we'd suggest you'd follow these tips:
Regularly inspect your racking
Understand loading capacities & ensure these are clearly marked for all
Invest in pallet racking accessories which can improve the efficiency & durability
SEMA Approved Racking Inspectors
We cannot stress the importance of regular inspection and checks of your pallet racking enough. Not only will you lower any future costs, avoid stock damage, and increase efficiency but you'll protect your staff and ensure that they are working within safe conditions.
As SEMA approved racking inspectors we can provide safety checks for you. We'll also fix it for you too, providing a competitive quote for installation of replacement materials, repair services, and spare parts.
Give us a Call
If you're looking to improve the efficiency of your warehouse, we can help. Whether with pallet racking itself, protection accessories, labelling or inspections get in touch with the team. Give us a call on 01179 555 211 and talk to our experienced and knowledgeable team.
Bristol Storage Equipment Limited
Unit 28 Brunel Way,
Cooper Road,
Thornbury, Bristol
BS35 3UP
Sign up to receive our newsletter
By submitting this form you agree to our privacy and data protection policy which governs how we deal with personal data.