6 Proven Strategies for Keeping Warehouse Workers Happy & Motivated
How To Keep Warehouse Workers Happy and Motivated
How To Keep Warehouse Workers Happy and Motivated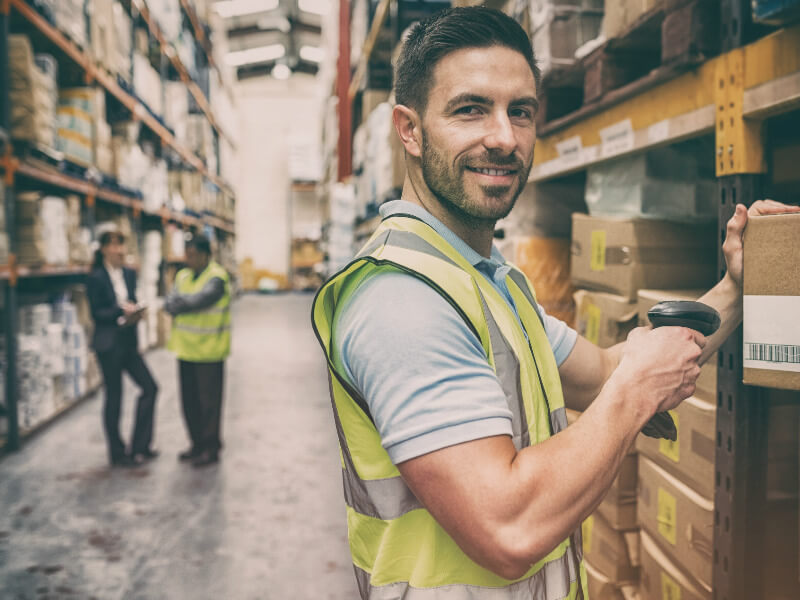 We've said it time and time again, one of the unifying traits of all successful warehouse operations is staff that are happy and motivated.
When staff are happier in their jobs, they are more likely to work harder, be more receptive to new ideas and ultimately, make your warehouse a better and more successful environment to work in.
And it's not just money that employees are after; take a look at our top 5 tips for keeping your workers happy and motivated.
Keep Staff Involved in Company Decisions
When the wishes and opinions of your staff are at the heart of what you do, you create an environment where they can thrive. Before making decisions with internal management, consider consulting members of staff to collect their thoughts and ideas.
You may also consider holding quarterly or annual team meetings with the entire workforce, taking on board their opinions of the company and what they would like to see changed or improved. From this, set goals and targets with rewards for meeting them such as a team day out, bonus or gift.
Offer Flexible Working Hours

In warehouses, shift patterns can be long and unsociable; employees working the same shifts day in day out can soon become uninspired and unproductive.
Creating a flexible working hours programme can help staff become motivated again, with opportunities to work with new members of staff and a choice of different hours to suit their lifestyle. Offering these kinds of shifts can also reduce staff turnover rates and the need for temporary workers.
Take Safety Seriously

If an employee feels unsafe at work, they are naturally less likely to want to stay there.
Promoting safe practices in the warehouse shows you care for your staff, whilst also motivating them to enjoy their working environment and keeping you compliant.
In addition to Health and Safety, taking steps to promote your staff's health and well-being can have a serious impact on their productivity and desire to work, warehouses are very demanding environments after all. Here are a few things you can do to promote good general wellbeing amongst staff:
Create a modern and comfy 'break-out' space where workers can go and relax during lunch.
Discourage a 'work until you drop' culture, allow staff to take ample days off if they are injured or unwell.
Encourage regular breaks – particularly for those that are doing manual intensive tasks.
Encourage and promote fundraisers that members of staff have organised outside of work.
Set up a walk or cycle to work scheme.
Hold quarterly or annual social events to bring together all members of staff.
Ensure your warehouse is properly illuminated with adequate lighting.
Play Music

Playing music in the warehouse can be a great way to get people motivated and enjoying their work. In fact, a study by Totaljobs found that 79% of employees can boost their productivity by listening to music at work.
And it's not a new thing, you might be surprised to find out that music in the warehouse dates back to the industrial age, where woman and occasionally orchestras, were brought into the quieter factories to entertain the workers.
Then in the 1940's, the BBC launched a radio programme called 'Music While You Work'. It went out twice a day and featured bands playing upbeat medleys to keep the factory workers happy.
Despite the proven benefits, it's important to remember that you should only allow music in the warehouse where it it safe to do so. This may just be in communal areas such as canteens and break rooms.
Offer Further Training
Offering your staff further training not only benefits their personal and career development, but can also have a positive impact on your business. Giving these workers responsibility over a certain aspect of their job can be a real motivation booster, whilst also improving staff retention rates.
For example, rack safety awareness training which will help workers identify damage to racking systems, as well as take steps to prevent damage in future. This not only empowers workers, but also helps you extend the life of your racking and save money on repairs.
Make the Warehouse Comfortable 
Keeping your warehouse at a comfortable temperature not only keeps staff happy but can also help them be more productive.
As well as being energy efficient and cost effective to run,  installing an air conditioning unit will enable you to keep a constant temperature ensuring comfort for staff.
Positive Feedback

Without receiving any feedback or recognition, staff don't really know how well they are doing. When achievements or hard work is not rewarded, productivity falls. Here are some schemes you can put in place to let your staff know that their achievements have not gone unnoticed:
Organise regular employee of the month/quarter/year competitions, offer a prize for the winning employee.
Have team/department leaders nominate the worker they feel went above and beyond each month/quarter/year.
Say 'thank you' and 'well done' – sometimes sincere praise is better than any physical reward.
Highlight your employee's strengths and work to them, offering them the opportunity to work in a new department or take on a new role can do wonders for their motivation and productivity.
Organise regular 1 to 1's between your staff and their senior members of staff – tell them what they are doing well, and how they can improve. This is also a good opportunity to gather their opinions on the company and how they are getting on.
Talk To The Experts
What steps do you take to keep your warehouse workers happy and motivated? We'd love to know.
If your staff are efficient but it's your warehouse that's holding you back – we can help. With a range of products including pallet racking, mezzanine floors and shelving solutions to help maximise space in your warehouse.
For more information, give one of our expert team a call today on 0117 955 5211 to discuss your individual requirements.
Bristol Storage Equipment Limited
Unit 28 Brunel Way,
Cooper Road,
Thornbury, Bristol
BS35 3UP
Sign up to receive our newsletter
By submitting this form you agree to our privacy and data protection policy which governs how we deal with personal data.