What Benefits Do Mezzanine Floors Offer To Businesses - BSE UK
The Benefits Of A Mezzanine Flooring System
The Benefits Of A Mezzanine Flooring System

When your business goes through periods of growth and space starts to become premium, a mezzanine flooring system is a cost effective, non-disruptive and efficient alternative to costly expansion or relocation.
These systems make use of the often unused vertical space, creating additional work or storage space – typically these structures are open to the rest of the facility and do not cover the entire floor space.
Find out more about the benefits of a mezzanine floor installation, what they are commonly used for and frequently asked questions regarding them in our latest blog post.
Options Available To Suit All Requirements
When looking for a flooring system, you'll find that there are many different models available – all of which serve different purposes. The most common types include:
Office Mezzanine Flooring – Office space in warehouses are often too small and located alongside busy areas, making them susceptible to noise pollution. A mezzanine flooring system can create a functional and private office space, offering noise protection and giving occupants a holistic view of the premises.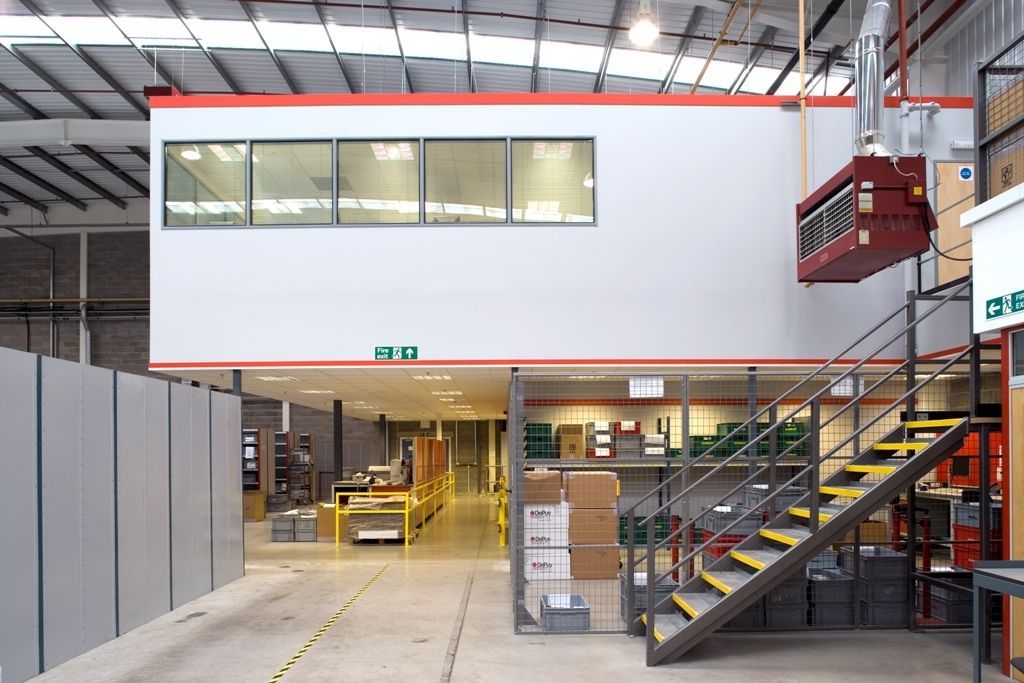 Storage Mezzanine Flooring – In environments that handle a lot of stock, a mezzanine floor can open up a whole new space for storage; also promoting better handling and management of stock. These types of mezzanine flooring system can be fitted with security measures such as steel mesh enclosures to ensure that stock is safe whilst being stored.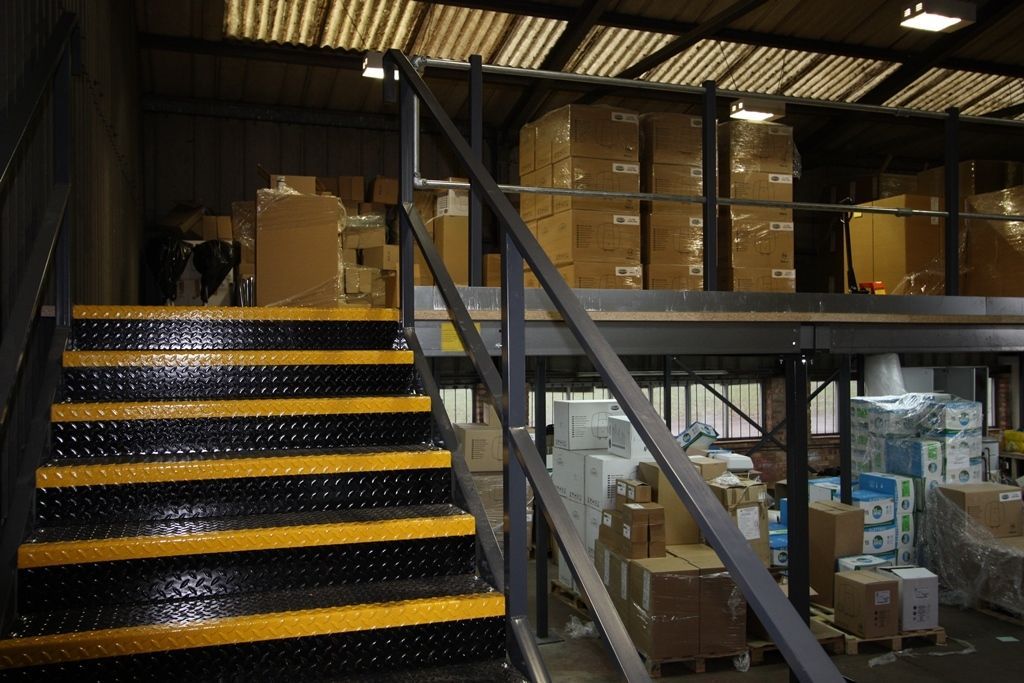 Multi-Tier Mezzanine Floors – Muti-tiered mezzanines are the optimal solution when warehouses have a lot of vertical space. Dependant on how much vertical space your premises offers, a multi-tier mezzanine could double or even triple your available space.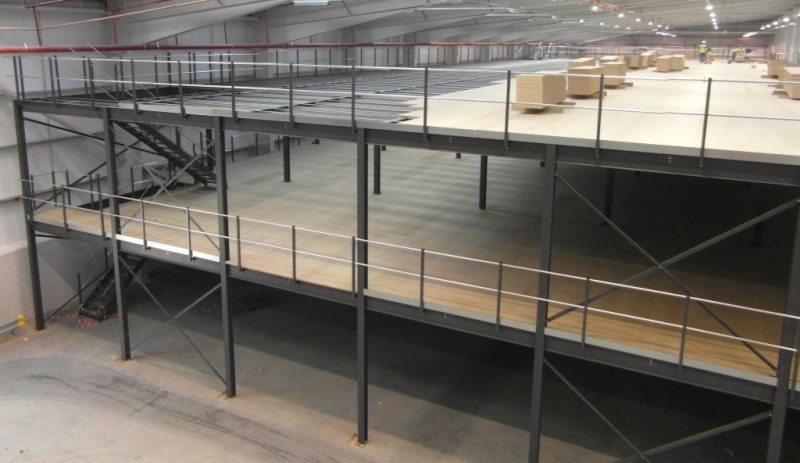 The uses of a mezzanine floor are not limited to warehousing and distribution, you'll also find them in the following sectors and environments:
Retail
Offices
Manufacturing
Production plants
Transport and fulfilment
Showrooms such as carpet and furniture shops
Auctioneers
Car dealerships
Makes Use of Overhead Space
One of the most immediate and significant benefits of a mezzanine floor is the utilisation of overhead space, creating extra work or storage space without the costs associated with expanding or moving.

Project Example: E-Vapor commissioned BSE UK to construct a functional warehouse space, creating office space above and secure storage space below.
Re-allocate Space for Different Tasks
With the creation of functional space, a mezzanine floor can allow for optimal reallocation of areas for different tasks. For example, in an office environment, teams working on different projects may be segregated – with a communal working space made available for any collaborative work.
Non-Disruptive Installation Process
Contrary to popular belief, installation is non-disruptive and can be completed in as little as 5 days with zero downtime.
Additionally, the installation can be designed to seamlessly integrate within the existing environment; making it easier for staff to acclimatise to their new working environment following installation.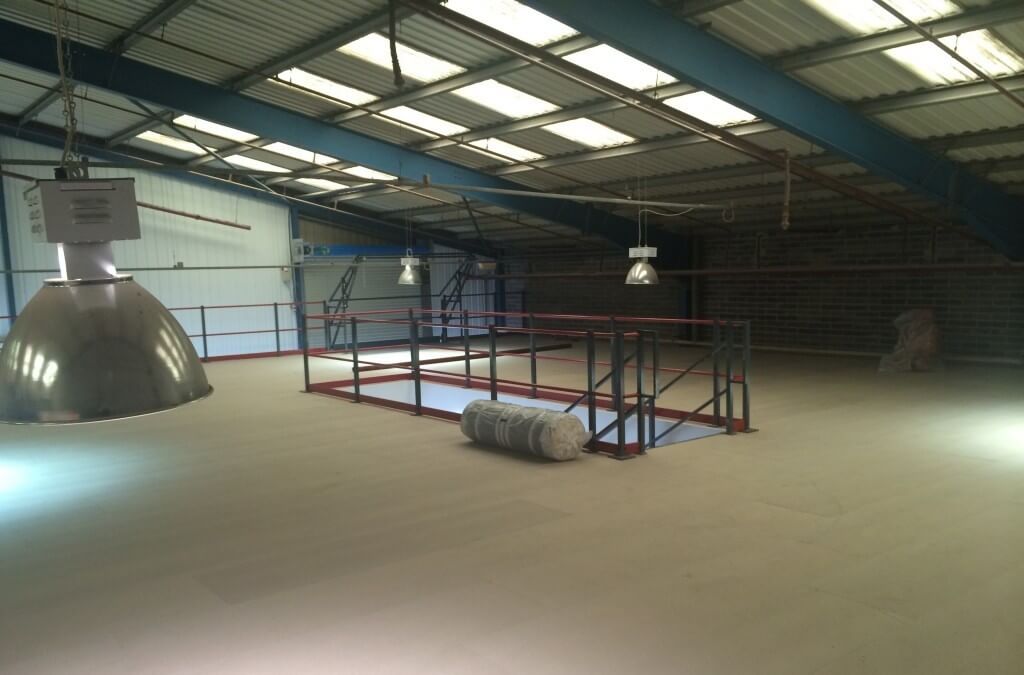 Project Example: After an initial brief from Danbury Motor Caravans we were able to create a functional space using a mezzanine flooring system with installation taking just 3 days.
Adds Value to Premises
Perhaps one of the least considered benefits of the system is the value it adds to the premises. If the property is ever sold or the business changes hands, you can expect a higher buying price if a functional mezzanine floor is present.
No Need to Expand or Relocate
When pressed for space, many businesses begin looking into expansion or relocation of their business; something that can be extremely costly.
With the right mezzanine flooring system, businesses can create enough extra space to keep their business in their existing location for years to come.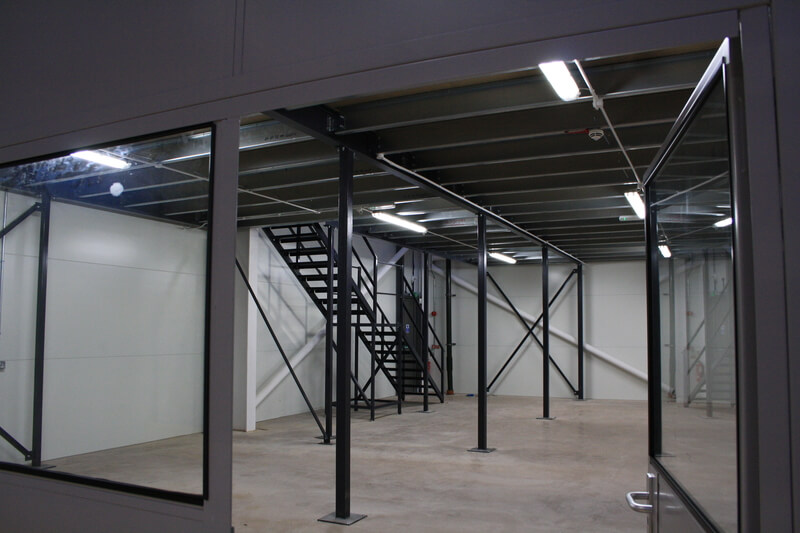 Project Example: We were commissioned to work for PF Cusack to create a separate working area using a mezzanine floor and steel partition system. Allowing them to increase the size of their operation without the need to expand their premises or relocate.
Cost Saving
By creating new space, allowing for expansion without relocation or costly building work and helping optimise workflow, a mezzanine floor is a long term investment that will save your business money in the long run.
Mezzanine Flooring System FAQs
Do mezzanine flooring systems require planning permission?
Generally speaking, no formal planning permission is required from a Local Authority to erect a mezzanine flooring. However, there are a few instances where planning permission or Building Regulation Approval will be required – read our blog to find out more about planning permission for mezzanine floors.
What's the cost of a mezzanine flooring system?
Prices for mezzanine flooring from BSE UK start from just £55 per square metre dependant on the size and scope of the flooring system.
Should I buy second-hand mezzanine flooring?
Second-hand mezzanine flooring is widely available online. Like most things that are already used, second-hand mezzanine flooring can come with a number of issues, some of which might not be apparent until installation is complete.
If you do end up going for a used system – make sure you hire a professional inspector to check it over before you go ahead with the purchase.
What are mezzanine floors made from?
Mezzanine floors are usually made from steel. Using steel allows for a robust structure that's easy to maintain, fireproof, safe and has a long working life expectancy.
Are mezzanine floors fire rated?
If your mezzanine floor is used for anything other than storage or exceeds 400m2, it should offer fire protection as recommended by building control. In certain environments, specialist additional fire-proofing may be required to increase the amount of fire-protection offered.
How do I keep a mezzanine floor in good condition?
In order to keep your mezzanine flooring in a safe working condition, you should have it regularly inspected and properly maintained by an expert.
Are there any other safety considerations?
When working on a mezzanine structure, there are a number of safety obligations in regards to working at height that should be considered to reduce the risk of injury, these include:
Ensuring handrails and a toe board are installed around the mezzanine where employees are working.
Ensuring a risk assessment is carried out to identify and control the risks associated with working at height.
Ensure all employees are properly trained and competent.
Read our blog post for more information on the risks of working at height associated with mezzanine floors.
SEMA Approved Nationwide Mezzanine Flooring Installers  
At BSE UK, we have many years experience installing and maintaining mezzanine floors nationwide. Each floor we supply is tailored exactly to your needs, taking into account Building Regulations, safety considerations and fire protection requirements.
What's more, we stock a full range of ancillary products including staircases, railings and pallet gates – allowing you to get everything you need supplied and installed by one supplier.
For more information, contact one of our expert team today on 0117 955 5211, fill out a contact form or use our live chat to speak to one of our representatives instantly.
Bristol Storage Equipment Limited
Unit 2 Mead Court,
Cooper Road,
Thornbury,
BS35 3UW
Sign up to receive our newsletter
By submitting this form you agree to our privacy and data protection policy which governs how we deal with personal data.